BBQ & Grilling
Barbecuing and grilling is almost always associated with outdoor cooking, usually during a time of year when the weather is sunny, warm and clear and the days are longer. Many BBQ recipes can be made indoors, however, allowing you to enjoy that barbecue
flavor any time of year! When it comes to outdoor cooking, some people prefer gas grills because they make grilling so quick and easy, while others might prefer cooking the old fashioned way on a charcoal grill using charcoal briquettes to get that true smoky flavor. Hibachis are great for grilling in small outdoor spaces or for outings at the beach, park or mountains, because they're so easy to transport. Smokers are wonderful for slow cooking, and will produce amazingly tender and juicy meat with delicious smoky flavor. When preparing BBQ and grilling recipes indoors, indoor grills can work wonders. Many recipes can also be cooked using your oven, broiler and stove. Whether you use the indoor or outdoor cooking method, barbecued and grilled food will always be like a good friend you will want to visit again and again.
BBQ & Grilling Recipes ▼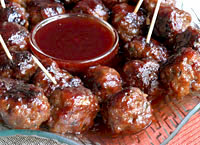 This
Meatballs with Grape Jelly and Chili Sauce recipe
features mini-sized ground beef meatballs seasoned with minced onion, minced garlic, fresh parsley and Worcestershire sauce and tenderized with egg, milk and bread crumbs. The sauce is a simple, quick and easy combination of grape jelly and red chili sauce, which when combined produces a very flavorful sauce enjoyed by both kids and adults. Great for any occasion!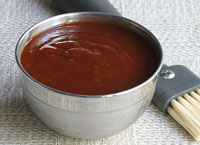 This
Memphis Barbecue Sauce
has a wonderful balance of sweet and tangy, and tastes fabulous on most any type of grilled meat (See
Memphis BBQ Ribs
. This BBQ sauce simmers on your stove for a couple hours, giving the ingredients time to mingle as the sauce thickens. It can be made while you're slow-cooking your grilled meat, or can be made in advance and stored in the refrigerator for days until you're ready to use it.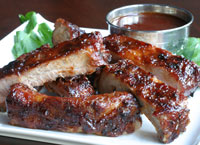 Whether you spell it barbecue, barbeque or BBQ, there's certainly one thing that will never change - the awesome smoky aroma and melt-in-your-mouth flavor that comes from barbecue ribs cooked on an outdoor grill.This
BBQ ribs recipe
features a Memphis-style barbecue, complete with a dry rub recipe and a homemade BBQ sauce recipe that will entertain your taste buds. Choose your favorite ribs, and get ready for 3 hours of slow cooking!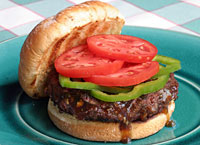 Polynesian Teriyaki Burgers
feature tender and juicy beef patties marinated in a flavorful sauce that combines soy sauce, brown sugar, fresh ginger root and Worcestershire sauce. These burgers are topped with thinly sliced fresh green bell pepper rings and tomato slices, which go perfectly with the Polynesian theme and add freshness and wonderful crunch. The marinade is also used for basting, giving these patties added flavor.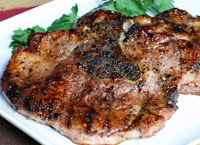 This tasty
grilled pork chop recipe
features a basting sauce made with apple cider, apple jelly, Dijon mustard and some red pepper flakes to give the sauce a lively "kick." The pork chops are lightly brushed with olive oil and seasoned with salt, pepper, garlic and red pepper flakes as well. The basting sauce takes only a few minutes on the stove while the pork chops take only about 15 minutes on the grill!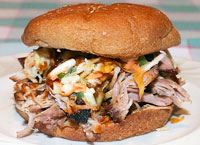 Pulled Pork Sandwiches
have got to be one of the greatest sandwiches on the planet. Pork shoulder (also known as pork butt), is cooked slowly in the oven to produce a juicy and tender, pull-apart meat. The cooked pork is then placed on a bun and topped with coleslaw and barbeque sauce. These sandwiches are very easy to make, and just require a few hours cooking time to produce that famously tender and juicy result!