BBQ & Grilling
Barbecuing and grilling is almost always associated with outdoor cooking, usually during a time of year when the weather is sunny, warm and clear and the days are longer. Many BBQ recipes can be made indoors, however, allowing you to enjoy that barbecue
flavor any time of year! When it comes to outdoor cooking, some people prefer gas grills because they make grilling so quick and easy, while others might prefer cooking the old fashioned way on a charcoal grill using charcoal briquettes to get that true smoky flavor. Hibachis are great for grilling in small outdoor spaces or for outings at the beach, park or mountains, because they're so easy to transport. Smokers are wonderful for slow cooking, and will produce amazingly tender and juicy meat with delicious smoky flavor. When preparing BBQ and grilling recipes indoors, indoor grills can work wonders. Many recipes can also be cooked using your oven, broiler and stove. Whether you use the indoor or outdoor cooking method, barbecued and grilled food will always be like a good friend you will want to visit again and again.
BBQ & Grilling Recipes ▼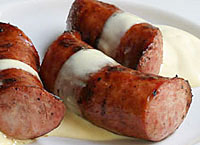 Sausages with Mustard Cream
is a surprisingly delicious main course (or see the
Sausages with Mustard cream appetizer recipe
version) that features grilled smoked or other sausages served with a creamy mustard dipping sauce made with whipping cream, Dijon mustard, prepared horseradish, white wine vinegar, egg yolks and a hint of sugar. Any type of smoked sausage or kielbasa will work beautifully with the Mustard Cream Sauce.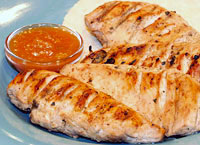 This
chicken dish
celebrates the flavors of Sinaloa, a state located in the northwestern part of Mexico, and can be prepared using any cuts of chicken. On its own, this grilled chicken has fabulous flavor from the seasoned marinade, but truly comes to life when accompanied by the Tomato & Tomatillo Salsa, which is made with tomatoes and tomatillos, along with onions, garlic and a Serrano chile. A perfect blend of spice and flavor!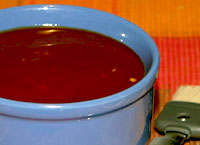 This
Tangy BBQ Sauce recipe
has great flavor, using a modest amount of ingredients. Ketchup, lemon juice, apple cider vinegar, brown sugar, ground mustard, Worcestershire sauce, water and a few seasonings are simmered together for an hour on the stove, allowing the flavors to mingle. This BBQ sauce recipe produces 3 1/2 cups of tangy sauce, which will easily cover many servings of meat, including beef, chicken, sausages, etc.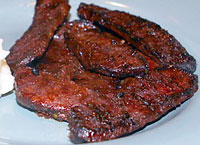 This easy
Teriyaki Steak Strips recipe
features a teriyaki marinade made with a combination of pineapple juice, white or rice vinegar, Worcestershire sauce, sesame oil brown sugar, honey, garlic and fresh ginger root, and can be used as both a marinade and a dipping sauce. These teriyaki steak strips can be cooked on an indoor grill or under the broiler - though if weather permits, an outdoor grill will provide that undeniable smoky flavor!