Teriyaki Steak Strips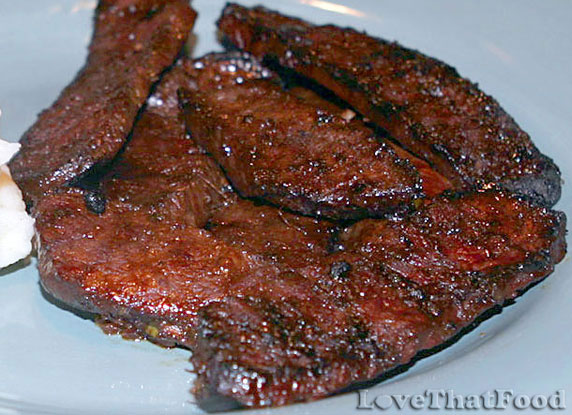 Cook Time:
2-8 minutes, depending on desired doneness
Tips:
For added smoky flavor, add some hickory or mesquite wood chips to your barbeque coals. Steak strips can also be broiled in the oven or on an indoor grill (though barbecuing is recommended if the weather permits).
These juicy and flavorful Teriyaki Steak Strips are soaked in a homemade teriyaki marinade for hours or overnight, then quickly grilled on your outdoor barbeque grill. This easy teriyaki marinade
recipe is made with a combination of pineapple juice, white or rice vinegar, Worcestershire sauce, sesame oil brown sugar, honey, garlic and fresh ginger root, and can be used as both a marinade and a dipping sauce, simply by reserving some of the marinade and storing it separately from the marinade you will be using for the steak strips. (Of course, the marinade used for marinating the steaks should never be used as a dipping sauce because of the raw meat factor). You can also broil the steak in your oven or use an indoor grill, though when weather permits, barbecuing outdoors will give these steak strips that unmistakable smoky barbecue flavor (especially when using natural charcoals and/or wood chips). Use your favorite cuts of steak with this recipe, and cook as long or short as you like (average cooking times usually range anywhere from 1-4 minutes per side).
Ingredients
1 1/2 lbs. steak (any cut you prefer)


2 cups soy sauce
1/4 cup pineapple juice
2 teaspoons white vinegar or rice vinegar
3 teaspoons Worcestershire sauce
3 teaspoons sesame oil
3/4 cup water
1/4 cup brown sugar
1 tablespoon honey
2 green onions (or chives), finely chopped
2 cloves garlic, minced
1 teaspoon minced fresh ginger root
Directions
Cut off large obvious or unwanted pieces of fat from steak. Cut steak into 3/8-inch-thick strips (any length). Set aside.

In a medium mixing bowl, combine all ingredients except steak and whisk until thoroughly blended. If you plan on using some of the marinade as a dipping sauce, reserve 1/4 to 1/.2 cup and store separately.

Add steak strips to bowl, completely immersing steak in marinade, pressing down steak strips if necessary. Cover and store in refrigerator for 3 hours to overnight (allowing to marinate overnight gives the steak more flavor).

Place steak strips over hot coals (do not close lid over barbecue). Brush tops liberally with marinade. Cook steak strips for approximately 1-4 minutes (cook time will depend on personal preference and temperature of coals). When first sides of steak strips are done, turn over and baste liberally with marinade again. Remove steak strips from grill once desired doneness is achieved and serve.
Other recipes you might like: