Horseradish Mashed Potatoes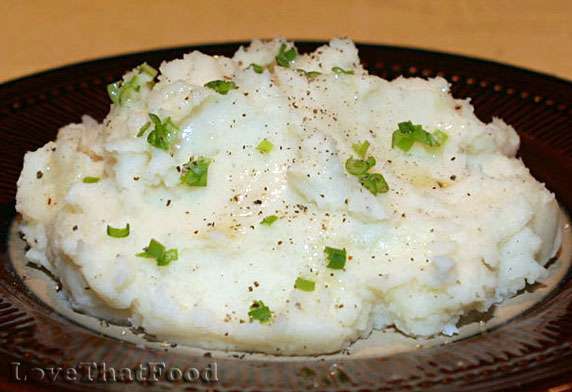 Tips:
If you don't have a food mill, potatoes can be mashed with a an electric mixer (handheld or countertop), though for smoothest texture, foodmills are recommended.
Suggestion:
Serve as a side with most any meat, poultry or seafood dish.
Mashed potatoes are always delicious with a little pat of butter, some chives, salt and pepper or with
your favorite gravy; but did you know they are also fantastic when a little horseradish and a few other ingredients are added? When it comes to homemade, if you've ever wondered how to make mashed potatoes with some great added flavor, this easy mashed potato recipe will show you just how easy it is!
Just like many other mashed potato recipes, this Horseradish Mashed Potatoes recipe begins with cooked potatoes. (Gold Yukon are recommended, but any other potato will do as well.) The cooked potatoes are mashed using a food mill with some 1/2 and 1/2 cream, milk, pure or prepared horseradish, smashed garlic and some seasoningThe taste of horseradish in this mashed potato dish is subtle yet very tasty and gives mashed potatoes a nice "zing!"
Ingredients
4 large or 6 medium potatoes (preferably Gold Yukon)
1/4 cup 1/2 and 1/2 cream
1/2 cup milk
1 tablespoon pure horseradish or 2 tablespoons creamed horseradish
2 cloves garlic, smashed
1/8 teaspoon celery salt
salt and pepper to taste
chives
Directions
Peel and cut potatoes into large chunks (about 6 pieces each). Place in a large pot and pour enough water to cover 1 inch above tops of potatoes. Add smashed garlic pieces to pot. Turn to high temperature and bring water to a boil. Cook for 25 minutes or until potatoes can be easily pierced with a fork. Remove bay leaf from pot and discard, then pour potatoes (along with garlic) into a colander and allow to completely drain.
While potatoes are draining, heat milk and cream until hot but not scalded. Set aside. Pour potatoes and garlic into a
food mill
and grind into a large bowl. (Or, you can simply add potatoes to the bowl and mash them using an electric hand mixer - though food mills make the potatoes creamiest). Add cream and milk to bowl along with horseradish. Mix with a large spoon or fork until well blended. Add salt and pepper to taste.
Serve, topping with chopped chives. You can also serve with butter if you like butter with your potatoes, though it's not necessary with these potatoes.
Other recipes you might like: