Four Bean Salad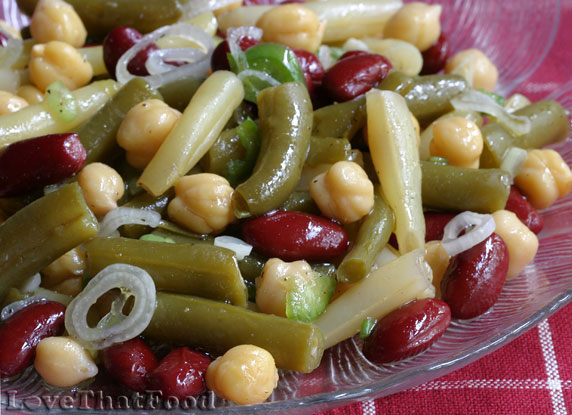 Tips:
If you prefer to use olive oil for this salad, remember to remove it from the refrigerator 1/2 hour before serving so it can liquefy (olive oil can harden when cold).
Suggestion:
For barbeques and picnics, this salad is great accompanied by
Red Potato Salad
or any other variety of
potato salad
. Also can be served as a side dish to sandwiches and most any dinner main course.
This Four Bean Salad recipe is incredibly easy to make, tastes great, and stays fresh for days when stored in the refrigerator. This tasty bean salad is made with four types of canned beans: Garbanzo beans, green beans, wax beans and
kidney beans. These beans are all mixed together with some thinly sliced green onions and thinly sliced green peppers (optional, though recommended for added texture, flavor and color) and tossed with a salad dressing that gives this salad its festive sweet and sour flavor. The dressing for this salad is extremely simple as well. A mixture of vinegar, oil, sugar and salt and pepper to taste are quickly whisked together, then poured over the beans. After marinating for a few hours in the fridge, the salad is ready to serve. This bean salad can also stand four hours at room temperature, making this salad convenient and perfect for barbeques, picnics, family events where "pack-up-and-go" meals are a must. Again, if preferred, you can omit the sliced onions and green bell pepper (a more kid-friendly version) and this salad will still taste terrific!
Ingredients
1 1-lb can cut green beans
1 1-lb can cut wax beans
1 15-oz can dark red kidney beans
1 1-lb can garbanzo beans
1/2 cup green (bell) pepper, chopped (optional)
1/2 cup sugar
2/3 cup vinegar
1/3 cup canola (or other salad oil)
1 teaspoon salt
1/4 teaspoon pepper
Directions
Drain green, wax, kidney and garbanzo beans (and green pepper if you choose) and pour into a large bowl. Mix beans up gently with a large plastic spoon or curved rubber spatula.

In a separate small bowl, add sugar, vinegar, oil, salt and pepper and whisk until well blended. Pour mixture over beans and stir again gently to coat. Cover bowl and place in refrigerator. Stir beans a couple times during the day to make sure all beans are coated with marinade. Or, you may store salad in an air-tight jar and simply turn the jar in different positions a couple times (on it's side and up-side down) during the day to coat all beans with marinade . Store overnight in refrigerator.

Just before serving, toss beans again to coat all beans with marinade. If using the store-in-jar method, just before serving, pour into serving bowl and toss to re-coat with marinade. Serve.
Other recipes you might like: