BBQ & Grilling
Barbecuing and grilling is almost always associated with outdoor cooking, usually during a time of year when the weather is sunny, warm and clear and the days are longer. Many BBQ recipes can be made indoors, however, allowing you to enjoy that barbecue
flavor any time of year! When it comes to outdoor cooking, some people prefer gas grills because they make grilling so quick and easy, while others might prefer cooking the old fashioned way on a charcoal grill using charcoal briquettes to get that true smoky flavor. Hibachis are great for grilling in small outdoor spaces or for outings at the beach, park or mountains, because they're so easy to transport. Smokers are wonderful for slow cooking, and will produce amazingly tender and juicy meat with delicious smoky flavor. When preparing BBQ and grilling recipes indoors, indoor grills can work wonders. Many recipes can also be cooked using your oven, broiler and stove. Whether you use the indoor or outdoor cooking method, barbecued and grilled food will always be like a good friend you will want to visit again and again.
BBQ & Grilling Recipes ▼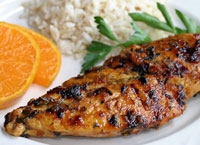 Chipotle Honey Tangerine Glazed Chicken
is a grilled chicken recipe that has unsuspecting and delightful flavor! Whether you prefer to use your outdoor charcoal grill, gas grill or indoor grill, this chicken recipe will produce a distinct theme of tangerine flavor with just the right blend of chipotle and honey. Chicken breasts are first soaked in a flavorful marinade, then basted during the last few minutes of cooking, creating a pretty glaze.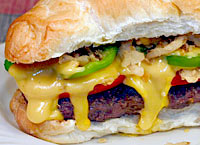 Golden Onion Burgers
are a fun twist to regular hamburgers. Ground beef is seasoned and combined with French fried onions and egg. The ground beef patty is cooked on your outdoor grill, then placed in a roll or crusty bread slices. The grilled patties are topped with sliced tomatoes, fresh green bell pepper rings, a homemade cheddar cheese sauce and crispy French fried onions A colorful and crispy hamburger recipe!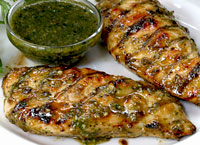 Grilled Chicken with Cashew Dipping Sauce
features a unique basting and dipping sauce that has a nutty, sweet and mildly tangy flavor that will pleasantly surprise the taste buds as well as add moisture and color to your chicken. The sauce is made with cashews, fresh cilantro leaves, green onions, fresh garlic, seasonings along with a generous amount of honey and some white and balsamic vinegar to counter the sweetness of the honey.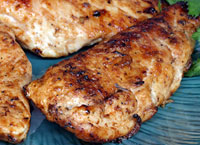 Grilled Chicken with Soy Wine Sauce
will add lively flavor and succulence to your grilled chicken. This chicken recipe features a tangy sauce made with dry white wine, soy sauce, lemon juice, melted butter, seasonings and herbs that is basted over any cut of chicken you prefer while grilling. If preferred, you can marinate the chicken in the sauce 30 minutes or more before grilling, though marinating is totally optional.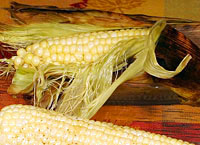 Grilling corn
in its own husk over hot coals has got to be the best way to cook corn. It's simply a matter of trimming off the loose husk leaves from the top, and placing the entire cob wrapped in its own husk on the grill. Even better, you can cook the corn while you're grilling meats. The corn husks have a natural way of protecting the corn from burning, while sealing in all the flavors and natural juices. Crisp, tender and amazingly juicy!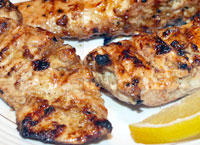 This
Grilled Lemon Garlic Chicken recipe
is a very tasty chicken dish that can be grilled outdoors or indoors in the oven under the broiler using traditional broiling methods. Chicken breasts are first soaked two hours to overnight in a marinade made of lemon, Worcestershire sauce, Tabasco, grated onion and a few spices, then grilled for a short time until they are golden brown and juicy. This tasty chicken dish is easy and takes little time.