Golden Onion Burger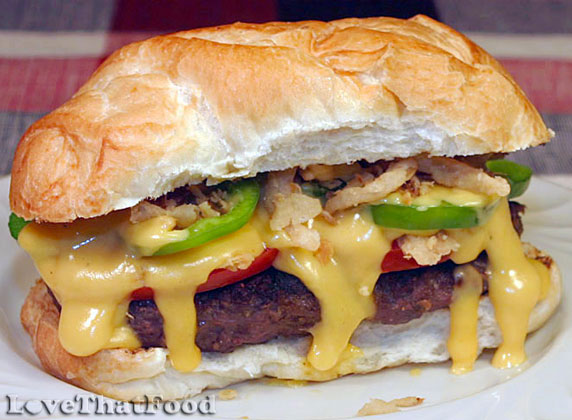 Yield:
6 burgers, 1 1/2 cups cheese sauce
Tips:
This burger can also be made with 3/4"-thick slices of Italian, sourdough or other bread cut from large round loaves.
Golden Onion Burgers are a nice twist to regular hamburgers. Ground beef is seasoned and combined with French fried onions (the small crispy type that come in a can) and egg to hold it together. The ground beef patty is cooked on your outdoor grill, then placed between 2 grilled rolls or thick slices of Italian, sourdough or other bread that comes
in large round loaves. Piled on top of the grilled hamburger patty are sliced tomatoes and fresh green bell pepper rings. A homemade cheddar cheese sauce is then drizzled over the top, and crispy French fried onions are sprinkled over the top of all of that.
This burger has a wonderful crispiness with every bite (offered by the onions and green pepper) and the crispy fried onions and cheese sauce taste fabulous together. This hamburger can also be cooked in your oven broiler and will still taste great, though you will lose that grilled flavor provided by the hot and smoky coals). If you have any cheese sauce left over, it can be used in a variety of other ways, such as topping cooked vegetables (like cauliflower or broccoli) and baked potatoes (great with bacon bits and chopped green onions!) and even used as a fondue dipping sauce for chunks of bread.
Ingredients
Burgers

1 3 1/2-oz. can French fried onions
2 lbs. ground beef
1 egg, beaten
1 tablespoon Worcestershire sauce
1 1/2 teaspoons salt
1/2 teaspoon garlic salt
1/4 teaspoon black pepper
6 large oval-shaped bread rolls
6 tomato slices
green bell pepper rings (optional)
Cheese Sauce (recipe follows)



Cheese Sauce

2 tablespoons butter or margarine
2 tablespoons flour
1/2 teaspoon salt
1/8 teaspoon black pepper
1 cup milk
1 1/2 cups grated cheddar cheese
1 teaspoon Worcestershire sauce
1/2 teaspoon prepared mustard
4 drops hot pepper sauce
Directions
Burgers
Prior to heating grill, spray with nonstick spray. Light coals.
Reserve 1/3 cup onions for garnishing burgers. Combine remaining onions with beef, egg, Worcestershire, salt, garlic salt and pepper. Mix well. Shape mixture into large oval patties about 3/4-inch thick and slightly larger than the bread you are using (meat will shrink while cooking). When coals are hot, cook patties about 3-4 inches from coals and cook to desired degree of doneness (about 12 to 15 minutes, turning patties over half way through cooking process). While burgers are cooking, toast bread on grill and prepare Cheese Sauce. To serve, top each roll or bread slice with a grilled patty, 2-3 tomato slices and 2 green pepper rings. Drizzle with cheese sauce and sprinkle with reserved onions.
Cheese Sauce
Melt butter in heavy saucepan. Stir in flour, salt and pepper. Add milk and cook and stir until thickened. Add cheese, Worcestershire, mustard and hot pepper sauce and stir gently until cheese melts. If burgers are served make-your-own style, place toppings and cheese sauce in chafing dish or a small bowl with serving spoon.
Other recipes you might like: