BBQ & Grilling
Barbecuing and grilling is almost always associated with outdoor cooking, usually during a time of year when the weather is sunny, warm and clear and the days are longer. Many BBQ recipes can be made indoors, however, allowing you to enjoy that barbecue
flavor any time of year! When it comes to outdoor cooking, some people prefer gas grills because they make grilling so quick and easy, while others might prefer cooking the old fashioned way on a charcoal grill using charcoal briquettes to get that true smoky flavor. Hibachis are great for grilling in small outdoor spaces or for outings at the beach, park or mountains, because they're so easy to transport. Smokers are wonderful for slow cooking, and will produce amazingly tender and juicy meat with delicious smoky flavor. When preparing BBQ and grilling recipes indoors, indoor grills can work wonders. Many recipes can also be cooked using your oven, broiler and stove. Whether you use the indoor or outdoor cooking method, barbecued and grilled food will always be like a good friend you will want to visit again and again.
BBQ & Grilling Recipes ▼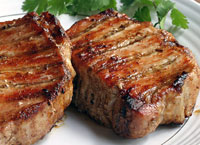 This
Grilled Pork Chops recipe
features succulent and juicy thick cuts of pork that are brushed with a tangy and peppery sauce during the grilling process, giving them a lively tangy flavor with just the right amount of spice. The sauce is made with a combination of black and cayenne pepper, hot pepper sauce, chili powder, apple cider vinegar and Worcestershire sauce, along with diced onions minced garlic.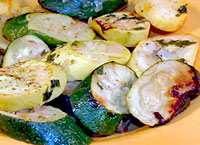 Here's an easy way to prepare some tasty vegetables while you're cooking your main course on the grill! This
grilled vegetable recipe
features zucchini and yellow squash, but can be made with only zucchini or only yellow squash as well. The squash is combined with herbs, seasonings and Parmesan cheese and cooked over hot coils in individual foil pouches, providing a fun, creative and easy way to serve your guests!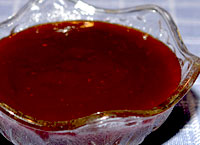 Honey Molasses BBQ Sauce
is a tart and mildly sweet barbeque sauce recipe with great smoky flavor. It that has a nice consistency for coating barbeque meats, such as beef or pork ribs, chicken and smoked sausages. The main players in this sauce are ketchup, vinegar, molasses, honey, liquid smoke and Tabasco, along with some garlic and onion powder. If you are feeding a crowd, it's easy to double-up on the ingredients.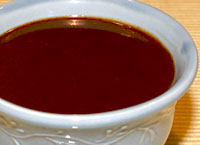 Amidst the many versions of barbeque sauce out there, this
Kansas City BBQ Sauce recipe
is one that deserves a spot at the top of the list! While most classic barbeque sauces use similar ingredients, it's really all about the quantity of each ingredient and the method of preparation. This sauce is made with chopped onions and minced garlic, and can be strained to a smooth consistency before using or kept in a chunky state.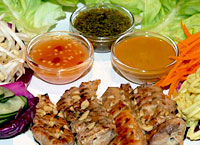 This healthy and delicious
Lettuce Wraps recipe
features Satay-marinated grilled chicken breast topped with chopped peanuts, served with sweet and sour cucumbers, bean carrots and Coconut Curry Noodles. Nutter lettuce leaves are served on the side and used for wrapping around these wonderful ingredients. Served with 3 dipping sauces: Sweet Red Chili with Garlic Sauce, Red Chili with Cilantro Sauce and Spicy Peanut Sauce.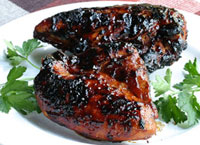 This
barbecue chicken recipe
features any cuts of chicken you prefer, whether it be legs, thighs, breasts or a quartered whole chicken. The Louisiana style barbecue sauce recipe features some butter, which helps keep the chicken moist while cooking. Along with a some ingredients you'll likely find in your pantry, the sauce also uses some prepared barbecue sauce, which allows you to add a little of your own favorite BBQ flavor.