Grilled Squash Parmesan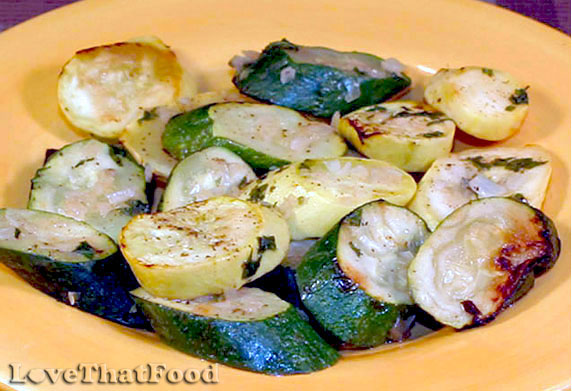 Tips:
Use mittens when opening packets, as foil will be hot and hot steam will escape.
Suggestion:
Delicious served with any
BBQ
dish, a side of
bread
, and/or
Grilled Corn
if another side dish is preferred.
Here's an easy way to prepare some tasty vegetables while you're cooking your main course on the grill. This vegetable recipe features zucchini and yellow squash, but can be made with only zucchini or only yellow squash as well. It's as simple as cutting these vegetables into thick
slices, adding the fresh basil, liquid (your choice of wine, chicken stock or water), minced onion (optional), seasonings and cheese, then wrapping each individual serving in a small aluminum foil pouch, and placing on the grill for about 10 minutes.
While over the hot coals, the vegetables mingle in their pouches with the herbs, seasonings and cheese and some of the squash will lightly brown, giving them delicious flavor, texture and color. You can control the doneness of your squash by the amount of time you leave them on the grill. For more al dente vegetables, try cooking for a total of 5-7 minutes, and for a softer vegetable with some browning, try 10-12 minutes (5-6 minutes on each side). This recipe is fun for entertaining, because you can serve the vegetables in their pouches and let the guests open them. The pouches also help to keep the vegetables warm until they are served
Ingredients
1 medium-sized fresh zucchini
1 medium-sized yellow squash
1 tablespoons minced fresh onion (optional)
4 teaspoons wine, chicken broth or water
4 fresh basil leaves, diced
dashes seasoned salt
dashes pepper
4 teaspoons freshly grated Parmesan cheese
Directions
Have ready 4 sheets of aluminum foil (about 12 inches long). Cut zucchini and yellow squash into thick slices (about 1/2 to 5/8-inch thick). Divide sliced zucchini and yellow squash evenly among the 4 foil packets. Sprinkle with liquid, herbs, seasonings and cheese. Fold packets, sealing top and sides, making sure top seal is folded down flat against packet. Place on grill and cook, turning often. Cook for 3-6 minutes on each side, depending on preference of doneness. To check doneness, use mittens, as foil will be hot and hot steam will escape.
Other recipes you might like: