Louisiana Barbecued Chicken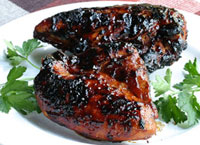 Cook Time:
1-2 hours, depending on cuts of chicken
Tips:
Amount of butter may be reduced as much as preferred.
Ingredients
3 2 1/2 to 3-lb. fryers, quartered or any other cuts of chicken
1/4 cup vegetable oil



Barbecue Sauce

1/4 cup butter (1/2 stick)
1 cup diced onion
2 cups (or 1 18-oz. bottle) hickory-flavored or hot barbecue sauce
2/3 cup (or 1 5-oz. bottle) steak sauce
1/4 cup Worcesterdshire sauce
2 tablespoons soy sauce (or to taste)
3 tablespoons honey (or to taste)
1 tablespoon brown sugar
2 lemons, quartered
3/4 cup freshly squeed orange juice
Directions
Melt butter in a medium saucepan over medium-high heat, then add onions and saute until soft (about 5 mintues). Add the barbecue sauce, steak sauce, Worcestershire sauce, soy sauce, honey, brown sugar, lemons and orange juice. Bring to a boil, then reduce heat to low. Simmer until sauce becomes thick (about 30 minutes). Remove from heat and discard the lemons.

Prepare charcoal grill, adding soaked wood chips to coals if desired. Brush chicken pieces with olive oil, then place on grill and sear both sides. Move seared chicken to the outside edge of the grill, then cover the grill. Adjust the air vents so they are only one-quarter open. Turn chicken and brush generously with sauce about every 10 minutes.

Cook chicken for about 1 to 1 1/2 hours (depending on size and cuts of chicken) until chicken is done but still tender. Reheat unused sauce and serve with chicken.