Sauces
The right sauces and gravies can turn an average meal into a spectacular meal! I have always felt that turkey gravy was the best part of a Thanksgiving feast, and would pour the gravy all over everything except my slice of
pumpkin or apple pie. When it comes to chicken, pork, beef, fish, vegetables and more, there are endless sauces that can add enormous flavor as well as moisture. Over time, I have come to realize the flavor power that gravies and sauces possess all across the board. Though I have not yet posted my beloved turkey gravy recipe, below you will find the beginning of my never-ending quest for delicious sauces.
Sauces can be made with endless ingredients, such as various types of cheese, wine, peanut butter, tomatoes, sweet peppers, cream, and a variety of Asian ingredients (to name only a few!). Sauces can also be made with meat, such as Genoise Sauce, a delicious gourmet French-style sauce made with ground beef and vegetables. I will never be able to gather enough sauce recipes, and hope that you will enjoy experimenting with sauces the way I do. A good sauce is hard to find!
Sauce Recipes ▼
Mustard Cream Sauce
is creamy, tangy and has wonderful distinct flavor. It can be served with main courses or as a dipping sauce for meat, fish or vegetable appetizers. This elegant mustard sauce is delicious with a large variety of meats, whether baked, broiled or grilled, including beef, pork, chicken and/or fish. This sauce can also be drizzled over or served as a dipping sauce for any cooked or raw vegetables.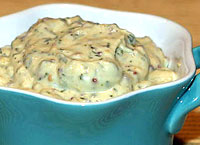 This
Mustard Dill Sauce recipe
has a texture similar to that of tartar sauce, though the flavor is pleasantly different. This sauce combines the creaminess of yogurt (or mayonnaise, if you prefer) and sour cream with the tartness of freshly squeezed lemon juice, combined with a some chopped fresh dill weed and coarse grain mustard. This sauce serves as a wonderful compliment to a large variety of fish dishes, such as
broiled salmon
.
Orange Cream Sauce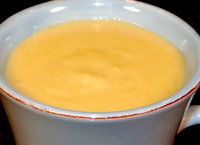 Orange Cream Sauce
is a simple yet delicious creamy sauce that goes well with poultry and pork dishes, and tastes wonderful when bread stuffings are part of the main course, such as with
Stuffed Chicken with Orange Cream Sauce
. With a combination of a few simple ingredients - half and half, orange juice, butter and flour, making this creamy sauce couldn't be easier. This sauce is especially delicious when combined with meat juices.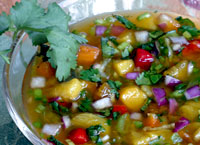 Peach Salsa
is a fresh and colorful salsa with a mildly sweet and ever-so-slight spicy flavor. It can be served as a sauce or garnish for most any type of fish, chicken or pork (see
Orange Glazed Salmon with Peach Salsa
). This gorgeous salsa is made with diced peaches, red and orange bell peppers, red onion, jalapeno, sliced green onions and chopped cilantro leaves, and is tossed with some apricot preserves, then chilled in the fridge.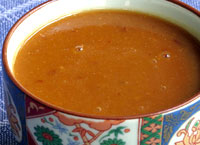 This incredibly delicious
Peanut Sauce recipe
(also sometimes called satay sauce, Thai peanut sauce, bumbu kacang or sambal kacang) serves as a fabulous dipping sauce for a variety of foods, including chicken, pork, spring rolls and more, and can also be used as a salad dressing. This peanut sauce recipe is mildly spicy, though can be made spicier simply by adding a little extra chili garlic sauce (see
recipe
).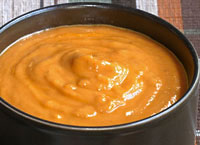 This richly colored
Peperonata Sauce recipe
features a combination of red and green sweet bell peppers, skin ned tomatoes, onion and basil, all of which are cooked, then blended into a creamy consistency. It has a full and mildly sweet and tart flavor that naturally comes from the combination of these vegetables, and tastes fabulous over meat and pasta dishes, such as
Chicken Peperonata
.