Mustard Cream Sauce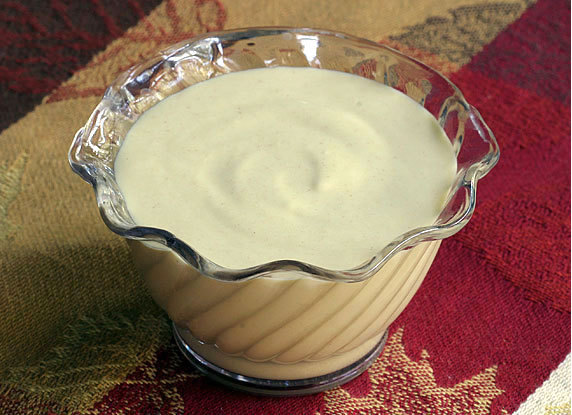 Yield:
About 1 1/2 cups sauce
Tips:
May be made in advance and stored in air-tight container in refrigerator for up to 1 week.
Suggestion:
Serve as a dipping sauce with meat or vegetable appetizers (see Sausages with Mustard Cream) or as a sauce with meats, including smoked sausage, chicken, pork, beef and fish.
This Mustard Cream Sauce recipe is creamy, tangy and full of wonderful distinct flavor, and can be served with main courses or as a dipping sauce for meat, fish or vegetable appetizers. When served as a sauce accompaniment with main courses, this elegant
mustard sauce is delicious with a large variety of meats, whether baked, broiled or grilled, including beef, pork, chicken and/or fish. This sauce can also be drizzled over or served as a dipping sauce for any cooked or raw vegetables.
Some examples of meat dishes that Mustard Cream Sauce beautifully compliments are steak, prime rib, pork chops, pork tenderloin, grilled or baked chicken, chicken strips or nuggets, smoked sausages (see Sausages with Mustard Cream Sauce) and any variety of fish, such as halibut, swordfish, salmon and more. The beauty of this Mustard Cream Sauce lies within the perfect balance of ingredients, which include egg yolks, Dijon mustard, white wine vinegar, prepared horseradish, whipping cream and a trace amount of butter and sugar. Not only is the taste exquisite, the color is a beautiful pale yellow that adds visual appeal to any dish.
Ingredients
2 egg yolks
1 tablespoon sugar
1/4 cup Dijon mustard
2 tablespoons white wine vinegar
1 tablespoon water
1 1/2 tablespoons prepared horseradish
1 tablespoon butter, softened
1/2 cup whipping cream
Directions
In the top of a double boiler over simmering water (alternatively, in a heat-proof bowl placed over a saucepan), heat together eggs yolks, sugar, mustard, vinegar, water, horseradish, and butter. Whisk until mixture thickens (3-5 minutes). Remove top boiler (or bowl) from heat and place in a large bowl of ice water, whisking or stirring constantly until mixture has thoroughly cooled. Remove from ice water and set aside.

Beat whipping cream until it forms stiff peaks. Fold cooled mustard mixture into cream until completely blended and cover and store in refrigerator. (Tip: If made ahead, cover and refrigerate for up to 1 week.) Serve as a sauce for appetizers and main courses with a variety of meats (such as smoked sausage, chicken, pork, beef) or cooked or raw vegetables.
Other recipes you might like: