Cheddar Cheese Sauce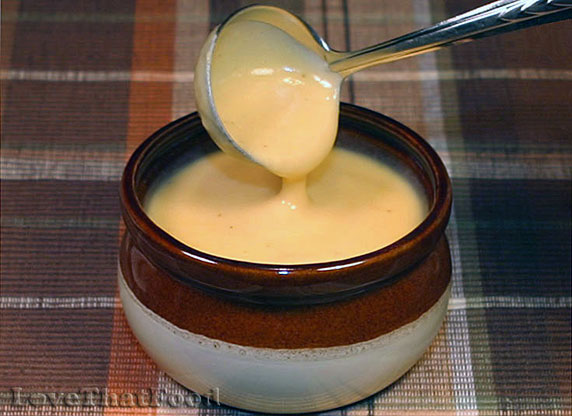 Tips:
If cheese sauce thickens, thin with a little milk while reheating.
Suggestion:
Serve with Golden Onion Burgers, vegetables, baked potatoes and as a dipping sauce for fondue.
This Cheddar Cheese Sauce recipe is very easy to make and can be made with your favorite type of cheddar cheese, whether it be sharp, extra sharp, white cheddar or mild. This tasty cheese sauce can be used with a large variety of foods. For example, Golden Onion Burgers uses this cheese sauce as a topping over grilled ground beef patties
to add flavor and moistness. Other ways you can use this sauce include serving it over vegetables such as broccoli, cauliflower, brussel sprouts and many others. It is also delicious drizzled over baked potatoes along with some bacon bits and diced chives or green onions.
If you prefer a more mild cheese sauce with some Parmesan cheese mixed in, you might be interested in LoveThatFood's Mild Cheese Sauce recipe. On the other hand, if you enjoy a little "kick" in your sauce, you can add 1/8 teaspoon of cayenne pepper to this cheese sauce recipe. This will not necessarily overpower it with spice, but will give it more distinct flavor. When this sauce sits for a while, it might thicken a little. To thin, simply add a little milk at a time while you reheat, and stir until you reach desired consistency. Leftover cheese sauce can be stored in the refrigerator and reheated when ready to use (again, using a little milk to thin if needed).
Ingredients
2 tablespoons butter
2 tablespoons flour
1/2 teaspoon salt
1/8 teaspoon black pepper
1 cup milk
1 1/2 cups grated cheddar cheese
1 teaspoon Worcestershire sauce
1/2 teaspoon prepared mustard
4 drops hot pepper sauce
Directions
Melt butter in heavy saucepan. Stir in flour, salt and pepper. Add milk and cook and stir until thickened. Add cheese, Worcestershire, mustard and hot pepper sauce and stir gently until cheese melts. If burgers are served make-your-own style, place toppings and cheese sauce in chafing dish or a small bowl with serving spoon.
Other recipes you might like: