Cauliflower with Cheese Sauce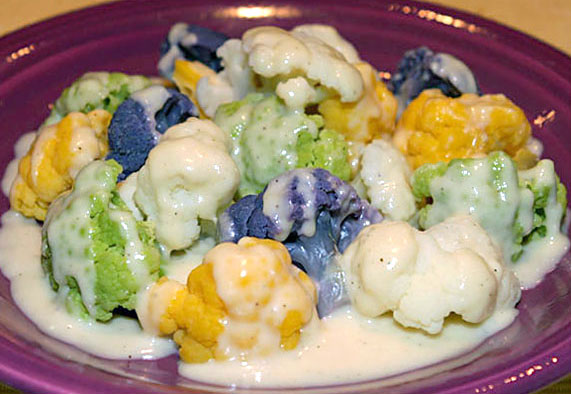 Tips:
Cheese Sauce can be used with other vegetables as well.
Suggestion:
Serve as a side dish with any meat, poultry or fish main dish.
Cauliflower became a much more fun vegetable to serve when the grocery
stores started carrying cauliflower in a variety of colors. We can now choose from the traditional white cauliflower, or go with green, yellow or purple - or a combination of them all (as shown above). Cauliflower has a texture and flavor that works perfectly with cheese or other sauces as well as a variety of seasonings. This Cauliflower with Cheese Sauce recipe adds delightful flavor to cauliflower florets, and is super easy to make! A butter and flour roux is quickly made on the stovetop, then the cheese sauce ingredients are stirred in and the sauce is heated through until its brought to a creamy consistency (no more than 5 minutes). The cheese sauce is made with cheddar cheese. Parmesan cheese and milk and a little seasoning, and nicely compliments broccoli florets as well.
Ingredients
1/2 head cauliflower, or various colored cauliflowers making one head combined
1 tablespoon butter
1 tablespoon flour
1/2 cup milk
1/2 cup cheddar cheese, grated
1/4 cup Parmesan cheese, grated
dry mustard
salt & pepper to taste
Directions
Cauliflower
Steam cauliflower in a
vegetable steamer
until tender enough to be pierced with a fork (about 5 minutes). Remove from heat and transfer to serving dish.
Cheese Sauce
While cauliflower is cooking, melt butter in a sauce pan. Add flour and stir until evenly blended and a paste forms. Add milk, cheeses and dry mustard, and stir until cheese melts and sauce forms a smooth and creamy consistency. Add salt and pepper to taste. Pour over cooked cauliflower.
Other recipes you might like: