Cauliflower and Broccoli Gratin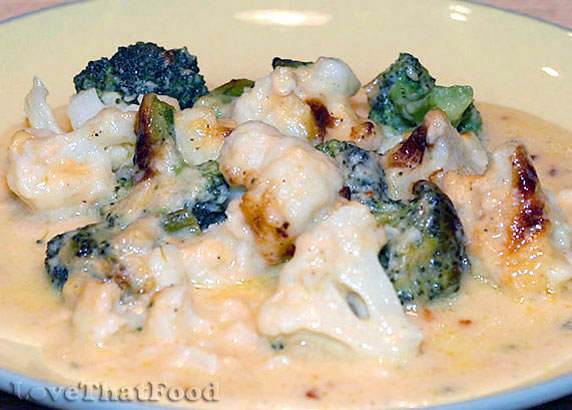 Cauliflower and Broccoli Gratin (also sometimes referred to as "au gratin") is a delicious way to add cheesy flavor and color to these two popular vegetables. This
easy vegetable recipe features cauliflower and broccoli florets baked with a homemade creamy cheddar cheese sauce until hot and bubbly and the top turns to a beautiful golden brown.
This vegetable casserole is made by first briefly cooking the cauliflower and broccoli florets in water (you may also steam the vegetables using a vegetable steamer if desired) until tender but still firm. A cheddar cheese sauce is then easily made on your stovetop by first creating a simple roux (a mixture of melted butter and flour), then adding some seasoning and gradually whisking in some milk and grated cheddar cheese. Once the cheese has melted, the cheese sauce is poured over the vegetables in a casserole dish, and the vegetables are baked with the cheese sauce until hot, bubbly and lightly browned on the top.
Ingredients
Vegetables

1 head cauliflower, trimmed and cut into large florets
1 bunch broccoli, trimmed and cut into florets
1 teaspoon salt



Sauce

1/4 cup (1/2 stick) butter
1/4 cup all-purpose flour
salt to taste
freshly ground pepper to taste
1/4 teaspoon nutmeg
2 cups skim milk
8 ozs. grated cheddar cheese (about 3 cups)
Directions
Preheat oven to 375 degrees. Spray a 2-1/2 quart casserole dish with non-stick spray and set aside.
Vegetables
Fill a saucepan with enough water to cover cauliflower and broccoli florets. Add salt and bring to a gentle boil. Add the cauliflower florets and cook for 3 minutes, then add broccoli florets and continue cooking cauliflower and broccoli until tender but still firm (about 5 more minutes). Drain vegetables in a colander, then rinse under cold gently running water. Drain thoroughly.
Evenly arrange cauliflower and broccoli florets in the prepared casserole dish and set aside.
Sauce
In a medium saucepan, melt butter over medium heat. Stir in flour, whisking constantly until thickened into a smooth roux (about 4 minutes). Add salt, pepper and nutmeg, then whisk while gradually adding cold milk. Continue whisking until the mixture thickens (about 4 minutes). Reduce heat to a simmer and add the cheese, whisking constantly until the cheese has melted.
Remove from heat. Pour the cheese sauce over the vegetables and bake for 30-40 minutes or until bubbly and top has turned light golden brown in color. Serve immediately.
Other recipes you might like: