Broccoli with Lemon Cream Sauce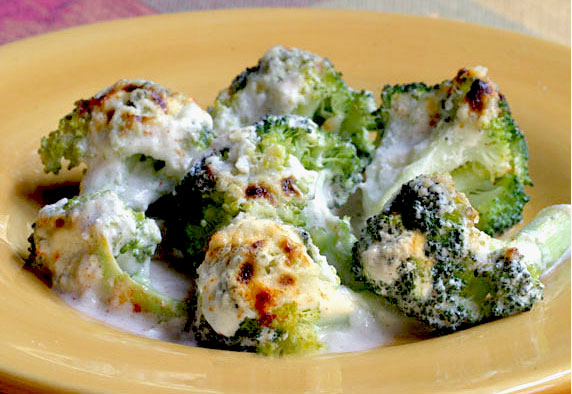 Tips:
To create an attractive visual presentation, cut broccoli stems at a diagonal.
Suggestion:
Delicious served as a vegetable side dish with most any main course.
Broccoli with Lemon Cream Sauce has delightful flavor and is a colorful and elegant way to serve broccoli florets. First, this the broccoli florets
are drizzled with a mild and creamy sauce made with whipped cream, sour cream, fresh lemon juice, dry mustard and onion. The florets and sauce are then sprinkled with paprika and broiled just long enough for the lemon cream sauce to partially brown, giving this vegetable side dish an attractive and unique visual effect as well as enhanced texture.
This broiled broccoli dish will beautifully compliment most any main course due to its mild and pleasing flavor, and can be prepared in less than 15 minutes.
You can cut your broccoli florets into petite or more generous sizes, with short or long stems (up to about 1 1/2 inches long), depending on personal preference. Cutting the stems at a diagonal will help to create a more attractive presentation.
Ingredients
1 1/2 lbs. broccoli
2/3 cup whipping cream
1/3 cup sour cream
1 teaspoon dry mustard
1 tablespoon lemon juice
1 teaspoon grated onion
salt and pepper to taste
paprika
Directions
Cut broccoli into bite-size florets, cutting stems at a diagonal (for visual appeal). Steam florets over boiling water using a vegetable steamer until tender (about 5-6 minutes). Alternatively, you can boil broccoli in 1 inch of water just until tender. Drain broccoli, then carefully arrange evenly in a broiler-proof casserole dish.

In a mixing bowl, beat whipping cream with a handheld electric mixer or electric mixer until stiff peaks form. Using a rubber spatula, manually fold sour cream, mustard, lemon juice and onion into whipped cream. Season mixture to taste with salt and pepper, then spoon dollops of mixture over broccoli and sprinkle lightly with paprika. Place under broiler until lightly browned, watching carefully to prevent scorching. Serve immediately.
Other recipes you might like: