Cheddar Parmesan Cheese Sauce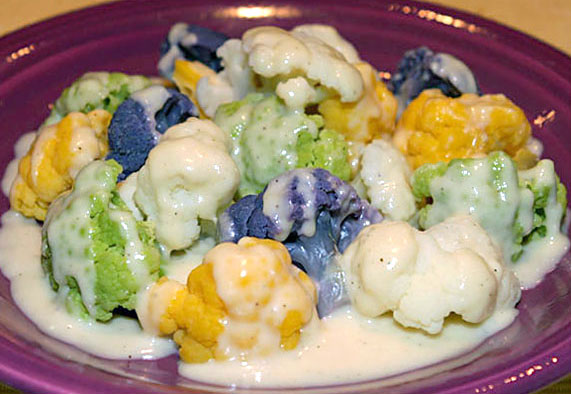 Yield:
About 1 cup of sauce
This easy Cheddar Parmesan Cheese Sauce recipe produces a mild cheese sauce featuring both cheddar and parmesan cheeses that can be used with a number of foods.
This tasty sauce begins on the stovetop with a simple butter and flour roux (a thickening agent created by combining butter and flour and briefly stirring over heat until smooth), then combines milk, cheddar cheese and Parmesan cheese, dry mustard and seasoning, creating a mild creamy, cheesy sauce that adds elegance and wonderful flavor when drizzled over cooked vegetables. The photo above shows this cheese sauce drizzled over multi-colored cauliflowerets (see
Cauliflower with Cheese Sauce
, but this sauce also tastes great with a variety of other vegetables, such as broccoli, brussel sprouts, asparagus, baked potatoes and more. With a little creativity, you might discover other great ways to apply this sauce!
Ingredients
1 tablespoon butter
1 tablespoon flour
1/2 cup milk
1/2 cup cheddar cheese, grated
1/4 cup Parmesan cheese, grated
dry mustard (optional)
salt & pepper to taste
Directions
Melt butter in a sauce pan. Add flour and stir until evenly blended and a paste forms. Add milk, cheeses and dry mustard, and stir until cheese melts and sauce forms a smooth and creamy consistency. Add salt and pepper to taste. Pour over cooked cauliflower.
Other recipes you might like: