Chicken Peperonata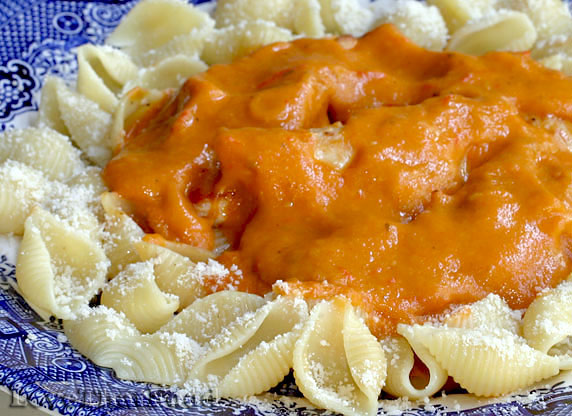 Tips:
Peperonata Sauce may be made in advance and stored in refrigerator until ready to use - then simply reheat in a saucepan or microwave until hot.
Chicken Peperonata is a delightful chicken recipe consisting of pasta, chicken breast and a delicious Peperonata Sauce. Peperonata Sauce
is made with a combination of sautéed red and green sweet bell peppers, skinned tomatoes, onions, garlic and fresh basil, and is pureed into a creamy consistency that beautifully drapes over the chicken and pasta, giving it vibrant color. The taste has a slight sweetness that is naturally derived from the combination of vegetables.
Peperonata sauce is easy to prepare. The onions are sautéed, then simmered with the other vegetables. Once the vegetables have finished cooking, they are blended in a blender to a smooth and creamy consistency. The chicken breasts can be served in any style you like, whether it be whole, cut into smaller pieces, cubed or thinly sliced. This dish can be served on a large serving platter or as individual servings.
Ingredients
Chicken

2-3 skinless and boneless chicken breasts
1 tablespoon oil
1 tablespoon butter



Peperonata Sauce

1/4 cup butter
1/4 cup olive oil
1 large onion, sliced
1 1/4 cups diced green bell pepper
1 1/4 cups diced red bell pepper
1 1/2 cups diced skinned tomatoes (see directions for removing skins)
2 teaspoons oil
3-4 cloves garlic, minced
4-6 fresh basil leaves or 1 teaspoon dried crumbled basil leaves
1 t salt
1/4 teaspoon pepper
Directions
Remove Skins from Tomatoes
Fill a medium-sized saucepan with enough water to cover tomatoes and bring to a boil (do not add the tomatoes yet). While water is heating, fill a medium-sized bowl with ice water and have ready near saucepan. Remove the core from each tomato (by cutting in a circular motion around the core, cutting about 1/2-inch down into the tomato). Next, on the bottom of each tomato, make small "X's" (about 1/2-inch in size), only cutting through the skin).

When water comes to a boil, gently lower tomatoes (2-3 tomatoes at a time) into the water and boil for about 15-25 seconds, or until tomato skins begin to peel off. Remove tomatoes with a slotted spoon or a set of tongs, and place in bowl of ice water to immediately stop the cooking process. (Note: If skins do not peel off easily, return tomatoes to water and steam a little longer (about 10 seconds) until skins are loose enough to peel.)

Once tomatoes are cooled, remove from ice water and peel off skins (they should easily come off), then dice.

Peperonata Sauce
Heat butter and oil in a heavy frying pan until hot. Add sliced onion and saute over low heat until lightly browned. Add green and red peppers, tomatoes, garlic and basil. Bring to a boil, then reduce heat and stir in salt and pepper. Cover and simmer for about 15-20 minutes or until vegetables are tender. (Note: At this point, start heating water for cooking pasta and begin cooking chicken using direcitons below.) After vegetables are finished cooking and tender, carefully pour or spoon entire mixture into blender container and blend on high speed until smooth. (Place a towel on top of blender and apply pressure before starting to avoid leakage, because top might tend to come off when you first start blender.)

Pasta
Before you start to cook chicken, heat a pot of water on the stove for your pasta (see pasta package directions for specific directions). Immerse uncooked pasta into boiling water during the last 7-12 minutes of the chicken's cooking time, depending on pasta instructions.

Chicken
Note: You can use the following cooking method, or any other cooking method you prefer. You can also buy a precooked roasted chicken and use the meat from that if desired.) While water is heating for pasta, begin cooking chicken. Heat butter and oil in a large skillet, then add chicken breasts. Season with salt and pepper. Cook chicken on both sides until thoroughly cooked (about 7 minutes per side). (Tip: Slicing chicken breasts in half horizontally to reduce thickness of breasts will shorten cooking time.) Slice into the thickest portion of a chicken breast to test doneness - if chicken is thoroughly cooked, no pink color will be apparent. Serve chicken breasts whole, cut into strips, sliced or cubed over pasta.

Serving options
Individual Servings: Place chicken on top of pasta and pour Peperonata Sauce over all, then garnish with Parmesan cheese as desired.

To serve on a platter: Arrange cooked chicken in the center of a large platter. Surround

with cooked pasta. Drizzle butter over pasta, then sprinkle with Parmesan cheese. Pour Peperonata Sauce over chicken. Dish up portions from platter.
Other recipes you might like: