Penne Bolognese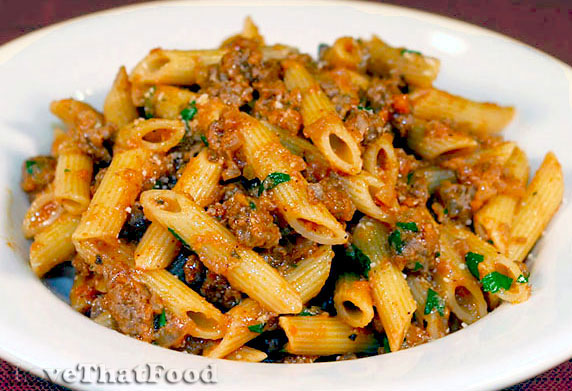 Tips:
You can use other pasta shapes with this recipe, such as rigatoni or ziti.
Penne Bolognese is a delightful pasta dish made with lean ground beef and diced vegetables, herbs and Parmesan cheese in a tomato-based sauce . It is easy to prepare and only requires a
little dicing of onions, carrots and celery. The rest is simply a matter of browning the ground beef and allowing it to simmer in the wonderful flavors of the sauce. Penne pasta is cooked to a dente, then stirred into the sauce. Top this pasta dish off with some grated Parmesan cheese, and you've got a quick and easy gourmet dish!
This Penne Bolognese recipe is flexible, in that some of the ingredients can be adjusted to your personal preference. For instance, you can substitute other sturdy pasta shapes for the penne, such as rigatoni or ziti. If you prefer a lighter meat, you can substitute ground turkey or chicken for the ground beef. As another alternative, you can mix some bulk ground sausage with the ground beef (such as 1/2 sausage and 1/2 ground beef). This recipe is, of course, delicious with or without any of these substitutions.
Ingredients
1 tablespoon olive oil
1 medium onion, minced or diced
1 carrot, minced or diced
1 rib of celery, minced or diced
1/2 cup water
1/2 lb. lean ground beef
1/2 cup dry white wine
1/3 cup tomato paste
1 2/3 cups milk (with any or no fat content)
3/4 teaspoon salt
1/2 teaspoon ground black pepper
1/2 teaspoon dried oregano
12 oz. uncooked penne pasta
1/4 cup chopped fresh parsley
1/4 cup grated Parmesan or Romano cheese
Directions
Heat a large nonstick skillet over medium-high heat. When skillet is hot, add the oil. When oil is hot, add the onions and reduce heat to low medium. Sauté, stirring frequently, until softened (about 5 minutes). Stir in the carrot, celery and water and cook until the vegetables are tender and liquid has evaporated (about 5 minutes longer).

Turn heat up to medium and add the ground beef and cook while breaking up into pieces, until there is no more pink color (about 4 minutes). Add wine and cook until the liquid has evaporated (about 5 minutes). Stir in tomato paste, 2/3 cup of the milk, salt, pepper and oregano. Reduce heat to low and and simmer, stirring frequently, until the milk has been absorbed. Add remaining 1 cup of milk and stir into sauce until thoroughly blended. Simmer for another 20 minutes.

While the sauce is simmering, cook penne pasta according to directions. After sauce has cooked for 20 minutes, pour into a large bowl and add penne pasta, parsley and Parmesan and toss to thoroughly combine. Dish into serving bowls and top with additional Parmesan if desired.
Other recipes you might like: