Spaghetti and Meatballs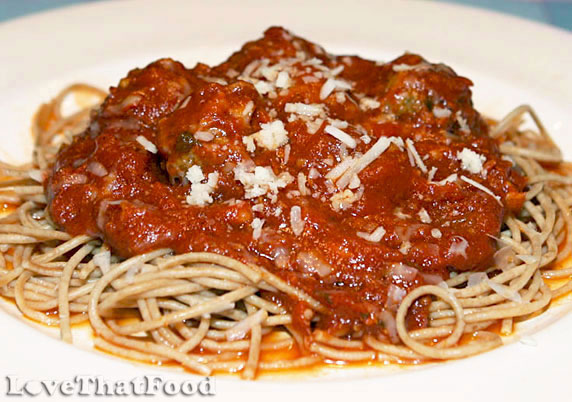 Tips:
You may use a variety of spaghetti noodles (picture shows whole grain noodles).
This is no ordinary plate of spaghetti! This Spaghetti & Meatballs recipe features a delicious full-flavored marinara sauce made with the perfect blend of spices and herbs and tender meatballs
made with ground beef and ground pork and a fabulous blend of ingredients as well.
Taking a little extra time to prepare this spaghetti recipe is well worth the effort, because the unmistakable home-cooked flavors (not to mention the wonderful aroma that fills your home!) will reward your taste buds and far surpass any bottled jars of premade marinara or pasta sauce you might occasionally purchase at the grocery store. One of the beauties of making homemade spaghetti sauce is that it can be made a day or two before it is served, and stored in the refrigerator, where the flavors will actually continue to blend and intensify. It probably goes without saying, but Spaghetti and Meatballs goes perfectly with a
dinner salad
, such as
Caesar Salad
or
Garden Salad with Dijon Vinaigrette
and some
homemade Garlic Bread
.
Ingredients
1 lb. spaghetti



Spaghetti Sauce

1 tablespoon olive oil
1 cup diced onion
2-3 cloves garlic, minced
1/4 teaspoon red pepper flakes
1 28-oz. can crushed tomatoes
1 28-oz. can tomato sauce
1/2 of 6-oz. can tomato paste
1/2 teaspoon dried basil leaves
1/4 teaspoon dried oregano leaves
1/4 teaspoon salt
1/4 teaspoon pepper



Meatballs

12 oz. ground beef
8 oz. ground pork sausage (you can use breakfast sausage)
2 tablespoons red wine
1 egg, lightly beaten
1/2 cup green onions (white parts only), diced
1 teaspoon garlic, minced
2 tablespoons fresh flat (Italian) parsley leaves, chopped
3 tablespoons grated Parmesan cheese
1/2 teaspoon salt
1/4 teaspoon black pepper
1/8 teaspoon paprika
1/8 teaspoon cayenne pepper
1/8 teaspoon garlic powder
1/8 teaspoon oregano
1/8 teaspoon thyme
Directions
Spaghetti Sauce
Heat oil in large soup pot and add onions. Cook onions on medium heat until tender (about 7-8 minutes). Add garlic and red pepper. Stir and cook for about 1 minute. Add all other sauce ingredients and stir until well mixed. Bring to a boil, then reduce heat to low. Cover and simmer while preparing meatballs.
Meatballs
In a large mixing bowl, combine all meatball ingredients. Mix with hands until well combined. Form into 1-inch meatballs and place on a plate. One meatball at a time, gently place in simmering spaghetti sauce. Gently shake soup pot to cover meatballs with sauce (don't stir yet, because this might break up the meatballs). Cook for 30 minutes, then stir gently. Cover and cook for another hour, stirring occasionally.
Cook spaghetti noodles according to directions, and pour sauce with meatballs over spaghetti. Top with freshly grated Parmesan cheese.
Other recipes you might like: