Garden Salad with Dijon Vinaigrette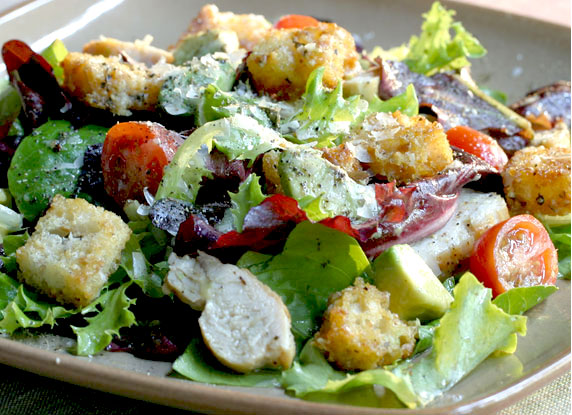 Tips:
Salad dressing can be made in advance and stored in the refrigerator until ready to use. Briefly shake dressing before pouring over salad. Quantity of salad ingredients can be adjusted to personal preference.
Suggestion:
May be served as a side dish or as a light main course.
We all know how to make a garden salad. Aside from the types of greens, the freshness of the ingredients, the light crispiness and flavor of the croutons and the visual appeal, what makes a garden salad truly delightful is the
salad dressing. Making your own homemade salad dressing is so easy, and far surpasses the prepackaged store variety in freshness and flavor. What's more, you likely already have all the ingredients for a delicious salad dressing in your kitchen or pantry.
This Garden Salad with Dijon Vinaigrette recipe features baby spring mix (a variety of baby red and green leaves, such as green leaf, green and red romaine, green chard, baby spinach, arugula, red leaf, red mustard and more), grape (or cherry) tomatoes, avocado, chunks of chicken breast and croutons (see Croutons if you'd like to make an easy batch of your own homemade croutons) tossed with a tangy, light and fresh Dijon mustard vinaigrette dressing that will give your salad an eye-appealing pale yellow glistening shine. To see this Dijon Vinaigrette dressing before being tossed with a salad, see Dijon Vinaigrette.
Ingredients
Dijon Vinaigrette

1 tablespoon Dijon mustard
salt and freshly ground black pepper to taste
1 tablespoon minced shallot
1 garlic clove, crushed
1/2 cup white wine vinegar
1 cup olive oil



Salad

8 handfuls mixed baby greens (see recipe description for ideas)
1 avocado, cut into bite-size pieces
1/2 cup halved grape or cherry tomatoes
1/2 cup bite-size pieces cooked chicken breast
1 to 1 1/2 cups croutons (homemade or prepackaged)
freshly grated Parmesan cheese
freshly ground black pepper
Directions
Dijon Vinaigrette
In a blender or food processor, blend the mustard, salt, pepper, shallots, garlic and vinegar until smooth (do not add the olive oil in this first step). Remove cap from the top of blender cover and gradually add olive oil through the hole until fully blended. (Note: If the dressing tends to splash out of top hole, simply stop blender and add some olive oil. Cover and briefly blend. Continue this process until all olive oil has been added and blended.)
Salad
Rinse baby greens under cold running water and run through a salad spinner or dry between paper towels. To a large mixing bowl, combine all salad ingredients and briefly toss. Just before serving, toss salad with enough Dijon Vinaigrette to lightly coat all salad ingredients. Top with freshly grated Parmesan cheese and freshly ground pepper.
Other recipes you might like: