Pesto Pizza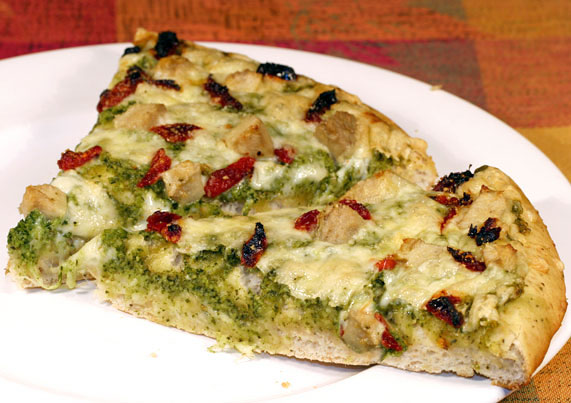 Yield:
1 12-14-inch pizza
Tips:
Fresh chopped tomatoes can be used instead of sun-dried tomatoes. Cubed or shredded chicken pieces can be added if desired.
Suggestion:
You can use prepared pesto in a jar and/or frozen bread dough or already baked pizza dough rather than making these items from scratch (though making them from scratch is easy and delicious!).
Pesto Pizza is a tangy, fresh and delightful pizza recipe, combining the flavors of pesto sauce (a combination of fresh basil leaves, garlic, pine nuts, Parmesan cheese and olive oil, all pureed to a spreadable consistency), sun-dried (or fresh) tomatoes and marinated artichoke hearts amidst
generous helpings of mozzarella and Parmesan cheeses. If you love Pasta with Pesto, you'll really enjoy Pesto Pizza. You can serve this Pesto Pizza vegetarian style, or add some shredded or cubed chicken to give it added flavor and protein.
This pizza recipe comes with a homemade dough recipe that you can roll out as thin or thick as you like. The dough follows the pesto theme with the addition of some dried basil, giving the dough the perfect flavor enhancement. Just before placing the pizza in the oven, the dough is brushed with a little olive oil around the crust's entire outer edge to help prevent it from drying out too much during baking, as well as give them a nice and light outer crunch. Pesto Pizza is very easy to whip up, and is packed with tons of great flavor. Some stores carry jars of prepared pesto, which you can use in place of the made-from-scratch version, but the homemade pesto recipe below is very easy to make and tastes wonderfully fresh
Ingredients
Pizza Dough

1 tablespoon (or 1 package) active dry yeast
1 teaspoon salt
1 tablespoon extra virgin olive oil
3/4 cup plus 2 tablespoons lukewarm water
2 cups all-purpose flour, plus additional for dusting
3/4 cups whole wheat flour
1 tablespoon crumbled dried basil



Pesto

2 cups fresh basil leaves
3 large cloves garlic
1/4 cup pine nuts
1/2 cup Parmesan cheese
1/3 cup olive oil



Pizza Toppings

1 1/2 cups grated mozzarella cheese
1/3 cup grated Parmesan cheese
1/2 cup chopped or sliced sun-dried tomatoes (or 1 cup chopped fresh tomatoes)
1 cup chopped marinated artichoke hearts
1 tablespoon olive oil
Directions
Pizza Dough
To prepare pizza dough, see Pizza Dough recipe and follow directions for Basic Pizza Dough, using any preparation method you prefer.
Pesto
Place basil leaves, garlic cloves, pine nuts and Parmesan cheese into food processor bowl and mix until mixture becomes crumbly. (Note: Stop once to scrape ingredients from sides of bowl and to move ingredients around on bottom to ensure blades are able to incorporate all ingredients.) While briefly mixing again, add olive oil through top opening of processor until thoroughly blended. Remove food processor top and stir briefly by hand to make sure oil and mixture are evenly combined.
Assembling Pizza
Once the rolled out pizza dough has risen, gently spread pesto over entire top (pushing down too hard on dough may make dough collapse a little). Sprinkle mozzarella cheese evenly over top, then top with tomatoes and artichoke hearts. Sprinkle Parmesan cheese over all. Place the 1 tablespoon of oil in a small bowl, then using a soft pastry brush, brush the oil on entire outside edge of pizza dough to prevent from over-drying in oven. Bake for 10-15 minutes or until cheese is beginning to bubble and crust edges have turned golden brown in color.
Other recipes you might like: