Mediterranean Pizza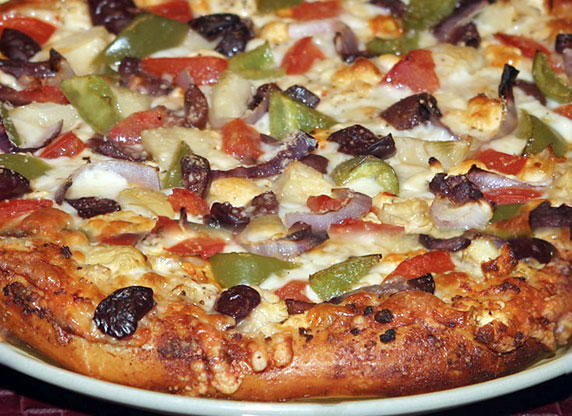 Tips:
The entire pizza can be made in advance and baked at a later date. Simply prepare the entire pizza (without baking), tightly wrap with plastic wrap, then place in the freezer. When ready to bake, simply remove from freezer and follow baking instructions (Note: A little additional baking time might be needed if pizza is placed into the oven frozen.)
Suggestion:
Delicious served with a
salad
.
Mediterranean Pizza (sometimes also referred to as Greek pizza) is a vegetarian pizza recipe (though one needs not be a vegetarian to enjoy it!) featuring a combination of colorful and distinctively flavored ingredients that bring to the table lively
and fabulous flavor! This Greek-style pizza entertains bite-size chunks of artichoke hearts, Kalamata (Greek) olives, thinly sliced red onion, chopped tomato and chopped green pepper with a blend of three cheeses - feta cheese, Parmesan cheese and mozzarella cheese. All these ingredients are arranged on top of a
homemade pizza dough
that has been generously glazed with Italian salad dressing (
homemade
or bottled) or any other herb style dressing (creamy or traditional). The photo above shows this pizza baked on
homemade pizza dough
, though if you are short on time, you can purchase pizza dough (ready-to-bake frozen dough or packaged pre-baked pizza crust) in the grocery store and simply apply the toppings and bake. Tip: Though homemade pizza dough takes a little time to allow the dough to rise, it is very easy to make and will give you that fresh, home-baked flavor!
Ingredients
Dough

See "Basic Bread Dough" recipe for 12-inch pizza dough.



Topping

1/4 cup Italian or other herbed salad dressing
1/4 cup crumbled feta cheese
1/4 cup goat cheese, pinched into pieces
1/4 cup shredded mozzarella cheese
1/3 cup chopped marinated artichoke hearts
1/3 cup chopped tomatoes
1/3 cup chopped green or red bell peppers (or a mixture of both)
1/3 cup pitted and sliced kalamata olives
1/4 chopped red onion
3 tablespoons shredded Parmesan cheese
Directions
Prepare basic bread dough from "Basic Bread Dough" recipe.

Preheat oven to 400° F.

Spread Italian salad dressing over entire top of dough. Sprinkle feta, goat and mozzarella cheeses evenly over top. Evenly place on entire top of dough artichoke hearts, tomatoes, olives and red onion, then sprinkle with Parmesan cheese.

Bake for 10-15 minutes or until sizzling and edges are beginning to turn brown.
Other recipes you might like: