Italian Dressing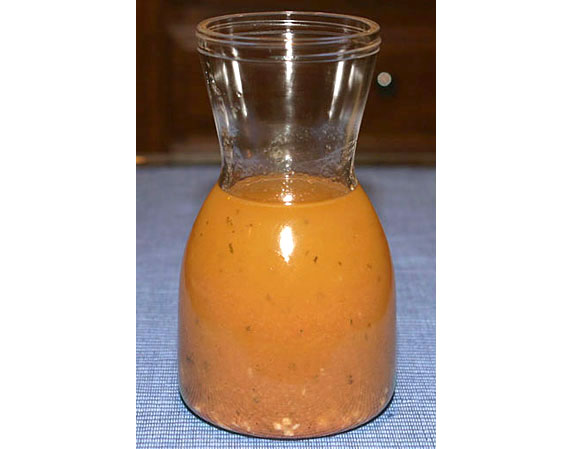 Suggestion:
Delicious tossed with green, leafy salads, pasta salads or brushed over chicken and fish before grilling.
This homemade Italian Dressing recipes is proof positive that
you don't need to run to the store to grab a bottle of prepared Italian dressing. This Italian Dressing recipe is tangy and full of lively flavor, and can be used with green salad, pasta salad, potato salad and more. Chances are you already have all the ingredients in your kitchen, too! Made with olive oil and red wine vinegar with a little garlic, Dijon mustard, honey and lemon juice, this dressing is light and tangy, and serves as a great dressing for leafy green and pasta salads. It also works great as a basting liquid for adding flavor and moisture to chicken and fish before barbequing and/or broiling. Stored in the refrigerator, this dressing should last as long as any bottled dressing.
Ingredients
1 1/2 cups olive oil
1/2 cup red wine vinegar
1/2 teaspoon salt
1 teaspoon honey
1 teaspoon lemon juice
1/2 teaspoon ground pepper
1/4 teaspoon dried oregano
1 teaspoon Dijon mustard
1 teaspoon minced garlic
Directions
In a medium mixing bowl, whisk together all ingredients. Store in refrigerator, then bring to room temperature and shake (to liquefy oils) just before using.
Other recipes you might like: