Dijon Vinaigrette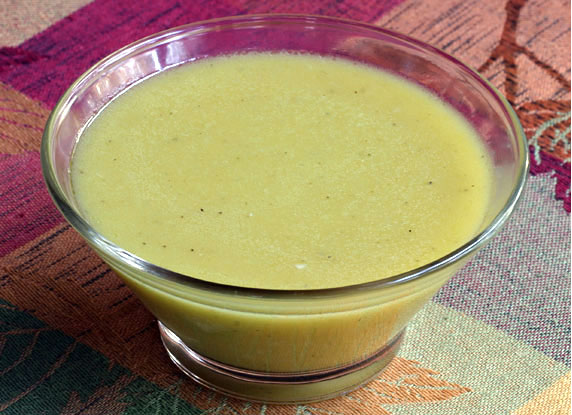 Tips:
Salad dressing can be made in advance and stored in the refrigerator until ready to use. Briefly shake dressing before pouring over salad.
Suggestion:
Delicious tossed with mixed baby greens of fresh herbs such as chervil, basil, flat-leaf parsley and burnet, and edible flowers such as nasturtium and borage or any leafy salad mix. Also see
Garden Salad with Dijon Vinaigrette
.
This Dijon Vinaigrette dressing recipe has a light, fresh and tangy flavor featuring Dijon mustard,
shallot, garlic, white wine vinegar, olive oil and freshly ground black pepper. All of these ingredients are briefly emulsified together in a blender or food processor (the olive oil is added after the other ingredients have been blended), creating a smooth texture similar to light salad dressings such as vinaigrettes and Italian dressings.
This mustard vinaigrette dressing recipe is not only lively and delicious, it has an appealing pale yellow color that adds a glistening vibrancy to most any salad, including leafy salads, vegetable salads or in some cases potato salads. As with many other salad dressing recipes, you can use this dressing as a marinade, bastingand/or dipping sauce for chicken and fish. To see Dijon Vinaigrette used with a garden salad, see
Garden Salad with Dijon Vinaigrette
.
Ingredients
1 tablespoon Dijon mustard
salt and freshly ground black pepper to taste
1 tablespoon minced shallot
1 garlic clove, crushed
1/2 cup white wine vinegar
1 cup olive oil
Directions
In a blender (or food processor), blend the mustard, salt, pepper, shallots, garlic and vinegar until smooth (do not add the olive oil in this first step). Remove cap from the top of blender (or food processor) cover and gradually add olive oil through the hole until fully blended. (Note: If the dressing tends to splash out of top blender hole, simply stop blender and add some olive oil, then cover and briefly blend. Continue this process until all olive oil has been added and blended. Do not overblend.)
Other recipes you might like: