Caesar Dressing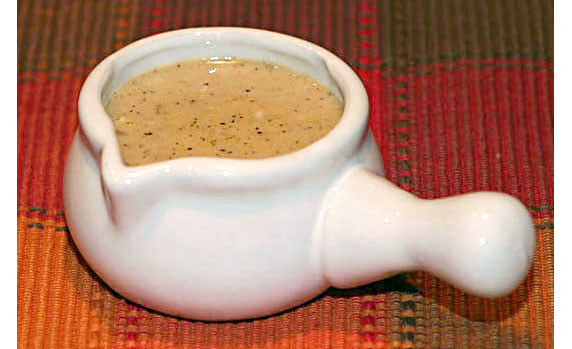 Yield:
3/4 cup of salad dressing
Tips:
Anchovy paste is optional.
This tangy and vibrant Caesar Dressing recipe will wake up any salad!
As with most Caesar salad dressing recipes, this recipe calls for anchovy paste. Though anchovy paste definitely adds an extra dimension of flavor to this dressing, it is entirely optional. If you don't have any anchovy paste handy or simply would prefer to make a Caesar salad without it, your salad will still have that extrodinary flavor. The trick with this salad dressing is to toss your lettuce and
croutons
with the dressing, then lightly toss in a generous amount of the grated Parmesan cheese (anywhere from 2 tablespoons to 1/3 cup), Top with some freshly ground black pepper, and dive in! Leftover salad dressing will store nicely in the refrigerator until the expiration date of your yogurt. If you'd really like to make this salad special, try making your own
homemade croutons
!.
Ingredients
1/3 cup plain yogurt
2 tablespoon lemon juice
1 1/2 tablespoons olive oil
2 teaspoon red wine vinegar
2 teaspoon Worcestershire sauce
1 teaspoon Dijon mustard
1/2 teaspoon pepper
3 garlic cloves, minced
1 teaspoon anchovy paste (optional)


Parmesan cheese (add a liberal amount to salad after tossing with dressing)
Directions
In small bowl, combine all dressing ingredients and whisk. Store in refrigerator until ready to use.
Other recipes you might like: