Croutons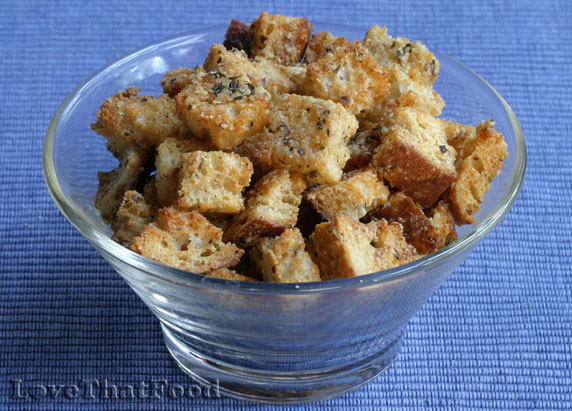 Yield:
6 cups of croutons or 12-20 servings
Suggestion:
Also great as a snack or a soup topping!
Once you see how easy homemade croutons are to make and how fantastic they taste, seasoned
with herbs and filled with the distinct flavors of garlic and Parmesan cheese, you'll probably never pick up a package of pre-made croutons at the store again.
This crouton recipe uses sour dough bread, which gives the croutons added flavor and great texture. You can, of course use any bread you like, though if you enjoy sour dough bread, sour dough is definitely the bread to use with this recipe. Another plus about making your own croutons is that if stored in an air-tight container, they will stay crunchy and fresh for a few weeks - so you can make a large batch and not worry about them going stale. Croutons are not only delicious with salads, they are perfect for sprinkling on top of soups and stews, and make a tasty crunchy snack!
Ingredients
6 cups sourdough or baguette-type bread, cubed
1 cup grated Parmesan cheese
1 teaspoon garlic salt
1/2 teaspoon dried oregano
1/2 teaspoon dried crushed basil
2 teaspoons dried parsley or 1 tablespoon fresh flat leaf parsley, minced
1/4 teaspoon onion powder
2-3 tablespoons olive oil
dash salt
Directions
Preheat oven to 300°.

In a large mixing bowl, add all ingredients except olive oil. Stir to mix. Drizzle about 1 tablespoon olive oil over bread mixture, then stir again. Repeat drizzling process again, then pour bread cubes onto a large non-stick baking sheet. Lightly drizzle with olive oil one more time to ensure most bread cubes have a small bit of oil on them.

Place in oven, and set timer for 10 minutes. Remove from oven and turn croutons over with spatula to ensure they don't overcook on one side. Repeat turning process after another 5 minutes and return to oven. Continue turning process each 5 minutes until light golden brown. Warning: Croutons will cook quickly towards the end, so watch them very closely so they won't burn.
Other recipes you might like: