Chicken Chipotle Ranch Salad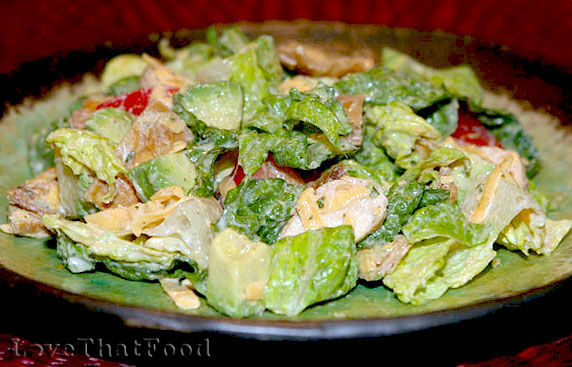 Cook Time:
About 10 minutes (for cooking chicken)
Tips:
Cheddar, Monterey jack, pepper jack or a combination of any of these cheeses may be used with this recipe.
Suggestion:
Delicious served with a side of
bread
.
Chicken Chipotle Ranch Salad is a fresh, crisp and festive salad full of wonderful flavor! This chipotle salad recipe presents a welcomed change
from salads tossed with traditional buttermilk ranch dressing, by offering a "zing" created from the flavors of ground chipotle peppers and salsa.
Chicken Chipotle Ranch Salad starts with a creamy ranch dressing base made with sour cream, mayonnaise and buttermilk, and combines it with some smooth salsa, fresh parsley and fresh basil, minced garlic and dried chipotle powder. This vibrant salad dressing is then tossed with crisp romaine leaves, shredded or sliced chicken, sweet red bell peppers, cheese (your choice of cheddar, Monterey jack or pepper jack, or a combination of any) and chopped fresh cilantro. This lively salad can be served as a main course or as a side salad to many main courses.
Ingredients
Dressing

1/4 cup sour cream
1/4 cup mayonnaise
1/2 cup buttermilk
1 clove finely minced garlic
1 1/2 teaspoons finely chopped fresh parsley
1 1/2 teaspoons finely chopped fresh basil
1/4 teaspoon salt
1/4 teaspoon black pepper
1/4 teaspoon dried chipotle chili powder
1/2 cup smooth salsa



Salad

3/4 - 1 cup diced cooked chicken (1 chicken breast)
3 or 4 T Chipotle Ranch Dressing (recipe follows)
2-3 cups washed and torn romaine lettuce
1/2 cup diced red pepper
2 tablespoons chopped pepperocini's or mild pepper rings (optional)
1/2 cup grated cheese (cheddar, Monterey jack or pepper jack (or a combination)
1/2 cup (more or less to your liking) chopped fresh cilantro
Directions
Dressing
In medium bowl, mix all dressing ingredients together. Add additional buttermilk if a thinner consistency is desired. Set aside. (Makes about 1 cup.)
Salad
Combine chicken, romaine pieces, red pepper, cilantro and cheese in large mixing bowl. Toss lightly to mix. Add dressing (use to your liking) and toss again until dressing is distributed throughout salad. Serve.
Other recipes you might like: