Caesar Dressing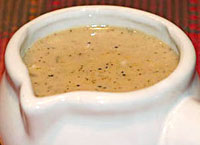 Yield:
3/4 cup of salad dressing
Suggestion:
Serve over Caesar Salad with a side of bread.
Tips:
Anchovy paste is optional.
Ingredients
1/3 cup plain yogurt
2 tablespoon lemon juice
1 1/2 tablespoons olive oil
2 teaspoon red wine vinegar
2 teaspoon Worcestershire sauce
1 teaspoon Dijon mustard
1/2 teaspoon pepper
3 garlic cloves, minced
1 teaspoon anchovy paste (optional)


Parmesan cheese (add a liberal amount to salad after tossing with dressing)
Directions
In small bowl, combine all dressing ingredients and whisk. Store in refrigerator until ready to use.