Golden Dressing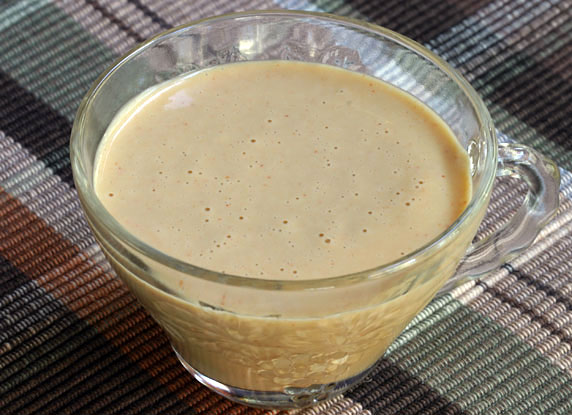 Yield:
About 2 cups of salad dressing.
This Golden Dressing recipe is the perfect flavor accompaniment to fresh
spinach (see
Spinach Salad with Golden Dressing
) or other leafy green salads as well as fresh or cooked vegetables and can be whipped up in minutes. It has a mild and flavorful taste, and a nice golden color that glistens when tossed with leafy salads. One egg is used in the dressing, but very warm water is added to the dressing ingredients with the egg during the blending process, which allows the egg to cook. This salad dressing recipe makes about 2 cups of dressing, which can accomodate a small crowd, whether you are making individual salads, one large salad, or using the dressing with vegetables. Any leftover dressing can be stored in the refrigertor for about 1 week (which is the recommended storage life for hard-cooked eggs when refrigerated).
Ingredients
Dressing

1 uncooked egg
1/2 teaspoon sugar
1/2 teaspoon salt
1/4 teaspoon paprika
1/2 teaspoon Dijon mustard
1 teaspoon Worcestershire sauce
dash garlic salt
1/4 cup catsup
1 cup olive oil
1/4 cup white wine vinegar
1/3 cup very warm water
Directions
Place the egg, sugar, salt, paprika, mustard, Worcestershire sauce, garlic, salt and catsup in a blender container and blend for 10 seconds. Add the olive oil alternately with the wine vinegar, blending constantly until thickened. Add the warm water gradually, blending constantly.

Place spinach, tomato wedges and egg slices in a salad bowl. Pour enough of the dressing over all ingredients to coat well, then toss lightly. Garnish with Parmesan cheese if desired.
Other recipes you might like: