Chicken and Vegetable Pizza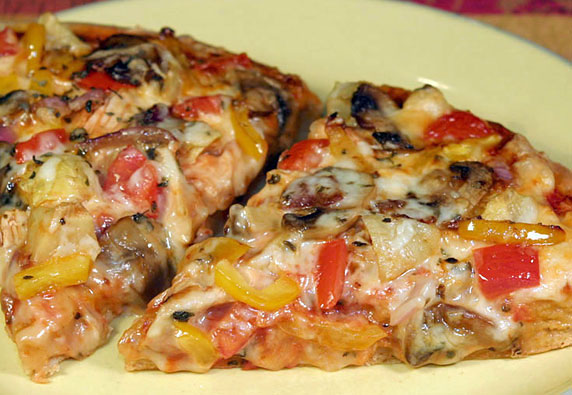 Yield:
1 12-14-inch pizza
Tips:
Photo shows this recipe made with yellow bell pepper, but you can use green or both yellow and green bell peppers.
Suggestion:
Delicious served with a
salad
.
It never ceases to amaze me how many ways a pizza can be created. Even the most subtle of changes in ingredients or preparation, whether it be the toppings or the dough, can change a pizza's flavor and texture quite dramatically. Take this Chicken & Vegetable Pizza, for instance. Most of us have probably tried pizza topped with bell peppers, onions and mushrooms. This
chicken and vegetable pizza recipe includes these ingredients, but with a twist. These vegetables are sautéed together in a skillet, which tenderizes them and releases the flavors, as well as giving them a little browning. This sautéing step adds unique and delicious flavor to this pizza, while adding lively color. Note: You can use green bell peppers instead of yellow, or combine both. Yellow bell peppers have a sweeter taste than green, but both are delicious with this pizza.
These vegetables, along with tomatoes and marinated artichoke hearts, shredded pieces of chicken breast and a generous helping of grated mozzarella cheese are placed over some pizza sauce and a little oregano is sprinkled on top of that. The dough is made with a combination of whole wheat and all-purpose flours and surprisingly, crushed toasted corn cereal squares. The dough rises and browns beautifully, is tender and has wonderful flavor. For those who follow a vegetarian diet or simply prefer a pizza without meat, this pizza can also be made without the chicken.
Ingredients
Dough

1 package (or 1 tablespoon) active dry yeast
1 cup warm water (105-110° F
2 tablespoons olive oil
3 cups toasted corn cereal, finely ground to 3/4 cup
1 3/4 cups all-purpose flour
1/2 cup whole wheat flour
3/4 teaspoon salt



Toppings

1 tablespoon olive oil (plus more for coating pizza crust edge, if desired)
1 12-14 oz. jar pizza sauce
1 1/2 cups shredded chicken pieces
1 14-oz. jar marinated artichoke hearts, drained and halved
1 small tomato, chopped
1/2 cup thinly sliced yellow or green (or 1/4 cup of each) bell pepper
1/4 cup sliced red onion
1/4 cup sliced mushrooms
1 teaspoon dried oregano
1 1/2 - 2 cups shredded mozzarella cheese
1/4 cup Parmesan cheese
Directions
Dough
Dissolve yeast in a large mixing bowl with the warm water. Add oil, cereal crumbs, flours and salt. Mix until blended. Move dough to a floured work surface and knead for about 4-5 minutes. Form a ball and place in a large bowl greased with oil. Cover with a towel or plastic wrap and place in a warm area. Allow to rise for about 20 minutes, or until doubled in size.
Pizza
Preheat oven to 425° F. Heat oil in a skillet. When oil is hot, add onions, peppers and mushrooms. Season lightly with salt and pepper and sauté until tender-crisp and lightly browned (2-4 minutes).
Transfer dough ball to a floured surface and roll into a 12-14 inch circle. Note: If you prefer rounded pizza crust edge, simply fold the outer edge of the pizza down (away from the pizza) and under the edge, gently pinching it make it stick. Poke a few holes in the pizza dough with a fork. Spread sauce evenly over crust, then spread the cheese evenly on top. Add chicken, artichoke hearts, tomato, bell pepper(s), onion, mushrooms and oregano. Sprinkle with Parmesan cheese and oregano. If desired, brush some olive oil on the outer edge of pizza dough to add moisture. Bake for 12-15 minutes or until crust is crispy and lightly browned.
Other recipes you might like: