Pork
Pork has tremendous flavor, and comes in so many forms. You can you find pork in the form of bacon, ribs, roasts, sausage, salami, pork chops, tenderloin,
ham and more, many of which come in various varieties of their own, producing amazing pork dishes. Pork is a tender and delicious, fresh-tasting meat that can be cooked in endless ways, and can often be used in recipes that call for chicken or beef. Pork is fabulous barbequed and smoked, roasted, slow-cooked, in casseroles and pot pies, with pasta dishes, soups and stews, pizzas and more. Pork can be served for breakfast, lunch or dinner, or used as a tasty ingredient for appetizers and snacks. The more you cook with pork and experiment with a variety of pork dishes, you will learn more about the cuts you enjoy the most, and the ways you prefer to prepare those cuts. Below you will find a variety of pork recipes for baking, barbecuing, slow cooking and stir-frying, as well as recipes for pork casseroles, pulled pork sandwiches, pork stew and potstickers.
Pork Recipes ▼
This
Chile Verde Burrito recipe
features many of the ingredients found in Chile Verde, while allowing them to simmer together on the stove, producing tender bites of pork in a fabulous flavored thickened sauce. Warmed large flour tortillas are wrapped around the simmered ingredients, then generous helpings of Monterey Jack and cheddar cheeses are sprinkled over the top of the rolled burritos which are broiled until the cheese melts.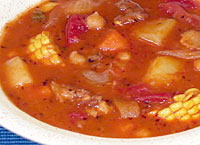 Chunky Mexican Pork Stew
is a hearty stew that uses large chunks of every ingredient, making this pork stew recipe warm, delicious, and satisfying as well as an impressive presentation! Chunky Mexican Pork Stew features large chunks of pork shoulder potatoes, carrots, slices of corn on the cob, garbanzo beans, onions and stewed tomatoes, simmered in a chicken and tomato-flavored broth seasoned with Mexican herbs and spices.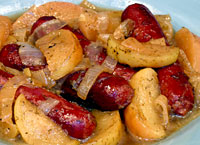 This savory and mildly sweet
Cider-Braised Sausage with Apples recipe
is as simple and easy as can be, yet is packed with wonderful flavor! This sausage recipe takes only 20 minutes of simmering in a skillet and features sausages, sautéed sliced onions and sliced apples cooked in seasoned apple cider. Photo shows bratwurst sausages, though smoked sausage, kielbasa style sausage or sweet Italian sausage will work as well.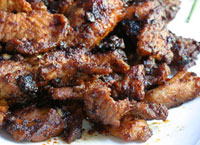 Dwaeiji Bulgogi
(also sometimes spelled Daeji Bulgogi) is a spicy Korean pork recipe featuring thin slices of pork shoulder that are marinated in a flavor-packed thick sauce made with Asian spices. The marinated pork is then briefly stir-fried until cooked yet still tender and served alone or over a bed of rice. Some Asian spices included in this dish are red pepper powder, soy sauce, sesame oil and mirin.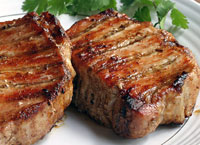 This
Grilled Pork Chops recipe
features succulent and juicy thick cuts of pork that are brushed with a tangy and peppery sauce during the grilling process, giving them a lively tangy flavor with just the right amount of spice. The sauce is made with a combination of black and cayenne pepper, hot pepper sauce, chili powder, apple cider vinegar and Worcestershire sauce, along with diced onions minced garlic.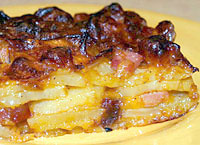 Ham and Scalloped Potatoes
is an easy casserole recipe that feeds plenty, has fabulous flavor, and is enjoyed by all ages. This scalloped potato recipe features thin slices of potato, bite-size chunks of ham, sliced onions and cheddar cheese. All of these delicious ingredients bake together with a simple milk and flour sauce for about 1 hour, resulting in a wonderful bubbly golden casserole with a beautiful caramelized and crunchy top.