Pork
Pork has tremendous flavor, and comes in so many forms. You can you find pork in the form of bacon, ribs, roasts, sausage, salami, pork chops, tenderloin,
ham and more, many of which come in various varieties of their own, producing amazing pork dishes. Pork is a tender and delicious, fresh-tasting meat that can be cooked in endless ways, and can often be used in recipes that call for chicken or beef. Pork is fabulous barbequed and smoked, roasted, slow-cooked, in casseroles and pot pies, with pasta dishes, soups and stews, pizzas and more. Pork can be served for breakfast, lunch or dinner, or used as a tasty ingredient for appetizers and snacks. The more you cook with pork and experiment with a variety of pork dishes, you will learn more about the cuts you enjoy the most, and the ways you prefer to prepare those cuts. Below you will find a variety of pork recipes for baking, barbecuing, slow cooking and stir-frying, as well as recipes for pork casseroles, pulled pork sandwiches, pork stew and potstickers.
Pork Recipes ▼
This healthy
Korean Stir-Fry recipe
features a colorful medley of colorful vegetables and thin slices of marinated pork or beef, stir-fried with a tangy sauce made with Asian ingredients, as well as a number of other ingredients you likely already have in your pantry. The sauce (a portion of which is also used for the marinade) has a delicious robust and tangy flavor, and is made by combining a wonderful blend of Asian flavors.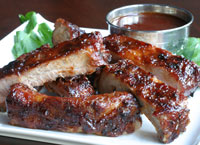 Whether you spell it barbecue, barbeque or BBQ, there's certainly one thing that will never change - the awesome smoky aroma and melt-in-your-mouth flavor that comes from barbecue ribs cooked on an outdoor grill.This
BBQ ribs recipe
features a Memphis-style barbecue, complete with a dry rub recipe and a homemade BBQ sauce recipe that will entertain your taste buds. Choose your favorite ribs, and get ready for 3 hours of slow cooking!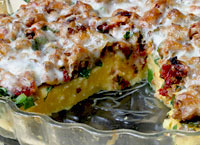 This recipe for
Polenta Pie with Sausage, Spinach and Sun-Dried Tomatoes
features a bottom layer of polenta flavored with sharp cheddar cheese, topped with a layer of chopped fresh spinach (or frozen spinach, if desired), Italian sausage is sautéed with chopped green onions, minced garlic and sun-dried tomatoes, and arranged over the top of the spinach. Grated mozzarella cheese is sprinkled over the top, and the pie is quickly baked.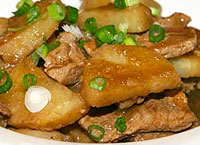 Pork and Potatoes
features sliced pork (photo shows this dish with pork shoulder) and sliced potatoes.Thinly sliced pork pieces are stir-fried with garlic, then the potatoes and sauce are added and all ingredients are cooked until the potatoes are tender. Allspice, anise seeds, cinnamon, cloves and ground ginger are included in the sauce, giving this dish unexpected and uniquely delicious flavor!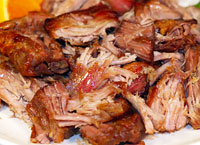 This
Pork Carnitas Recipe
features pork shoulder (also referred to as "pork butt," that is roasted with onion, garlic bulbs and seasoning, along with some water (to help the pork retain moisture) and some smoke flavoring. The result is delicious tender pull-apart pork that can be served alone as a main course or as a a meat filler for tacos, burritos, taquitos, tamales or any other Mexican dish that wraps meat up in tortillas.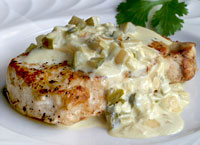 This delicious baked pork chop recipe brings to the table yet another fabulous way to celebrate pork chops!
Pork Chops Dijonnaise
features pork chops topped with a mildly tangy and mildly sweet sauce that perfectly compliments pork and is a cinch to prepare! The sauce features a combination of cream, Dijon mustard, sautéed shallots and garlic that simmer with white wine, along with chopped bread and butter pickles for a tender crunch!