Pork Carnitas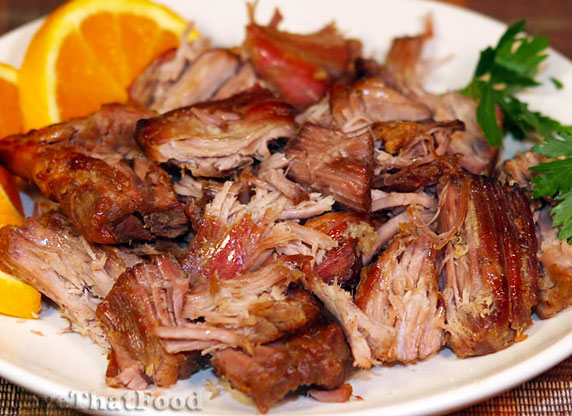 Tips:
Serve as a main course or as a filler for tacos, burritos, tamales, taquitos, etc.
Carnitas (translated means, "little meats") is traditionally served in Mexican restaurants, both dine-in or fast food style. It almost always is made with pork shoulder (also called "Boston Butt" or simply, "pork butt"), which is a marbled cut of pork that becomes tender and moist when cooked. (This is also the cut of pork commonly used for pulled pork recipes.) This pork carnitas recipe
can be served as the main course or as a a meat filler for tacos, burritos, taquitos, tamales or any other Mexican dish that wraps meat up in tortillas. It can also be found in more modern versions of egg roll, won ton, pot sticker recipes. Pork carnitas are delicious served with garnishes of sautéed onions, jalapenos, salsas (green or red), guacamole, sour cream, sprigs of cilantro, refried beans and/or orange, lemon or lime wedges.
There are a variety of ways to cook carnitas. Some recipes use a roasting method, usually adding a little water to a roasting pan to preserve moisture. Others might cook this cut of pork in lard, while some boil the pork in water or stock first, then briefly roast it to give it some crispness. All cooking methods produce fabulous results. This recipe uses the the roasting method, along with some onion, garlic bulbs and seasoning. Water with some smoke flavoring is added to the roasting pan and the pork is cooked until pull-apart tender.
Ingredients
4 lbs. pork shoulder (also called "pork butt")
1 tablespoon salt
1 tablespoon seasoned salt
1 cup water
1 teaspoon liquid smoke
1 onion, quartered
5 cloves garlic, halved
Directions
Preheat oven to 350° F.

Sprinkle the pork with the salt and seasoned salt. Place a roasting rack in a roasting pan. Add liquid smoke to water and pour into the pan. Place the pork on the roasting rack and top with the onion quarters and garlic clove halves. Cover the pan with a lid or aluminum foil. Bake for 2 hours, then remove the lid or foil, and continue cooking until pork is tender (about 1 more hour).

When pork is fully cooked, transfer to a large bowl. Shred the meat with two forks, then add the pan juices to the bowl and stir until combined. As a main course, serve with warm tortillas and salsa and sides of chopped tomatoes, guacamole or avocado slices, pickled jalapenos, sautéed onions, cilantro, and/or lemon, lime or orange wedges. Pork carnitas can also be used to fill tacos, burritos, tamales, taquitos or any other Mexican dish that uses tortillas.
Other recipes you might like: