Korean Stir-Fry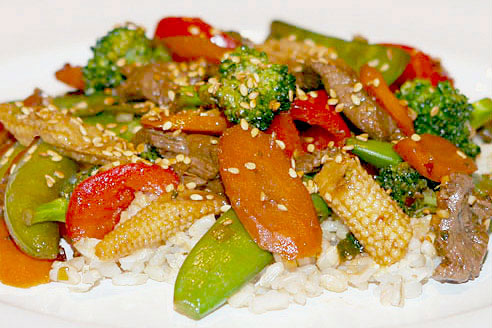 Tips:
Any vegetables you prefer can be substituted.
Suggestion:
Delicious served with or without rice.
This healthy Korean Stir-Fry recipe features a colorful medley of colorful vegetables and thin slices of marinated pork or beef, stir-fried with a tangy sauce made with
Asian ingredients often found in Korean dishes, as well as a number of other ingredients you likely already have in your pantry.
The sauce (a portion of which is also used for the marinade) has a delicious robust and tangy flavor, and is made by combining soy sauce, rice vinegar, scallion, garlic, fresh ginger root, sesame oil, chili sauce and olive oil. The meat is first marinated in a portion of the sauce for 30 or more minutes. The remaining reserved sauce is used for adding to the vegetables and meat while stir-frying, so this meat and vegetable stir-fry dish is certainly not lacking in flavor! This recipe suggests using sugar snap peas, broccoli florets, red bell pepper and baby corns, but you can certainly substitute with any number of vegetables you enjoy, including cauliflower, pea pods, bean sprouts, bok choy, etc.
Ingredients
Marinade

1 cup soy sauce
1/2 cup rice vinegar
2/3 cup chopped scallion
1/2 cup 4 tablespoons sugar
4 tablespoons minced garlic
4 tablespoons peeled & minced fresh ginger
2 tablespoons Asian sesame oil
3 tablespoons Asian chili sauce
olive oil



Stir-Fry

1 3/4 lbs. pork or beef
1/4 lb. (4 oz.) sugar snap peas
1/4 lb. (4 oz.) broccoli florets
1 red bell pepper
6-8 baby corns (may use canned or marinated in jar)
cooked rice
toasted sesame seeds
Directions
Marinade
In a small mixing bowl, whisk together marinade ingredients. Reserve 2/3 of the marinade for stir frying later.
Meat
Place meat in a bowl with 1/3 of marinade and allow to marinate for 30 minutes, turning meat over after first 15 minutes. Broil meat in oven until slightly charred. Cut meat into thin slices.
Stir-Fry
Heat 1 tablespoon olive oil in large skillet. Add vegetables and stir fry for about 3-5 minutes or until tender but firm. Add sliced meat to vegetables and stir fry again for about 3-5 minutes or until meat is browned. Add reserved marinade and cook on low for 1-2 minutes or until meat and vegetables are well-coated.
Serve over rice. Sprinkle toasted sesame seeds on top.
Other recipes you might like: