Pork
Pork has tremendous flavor, and comes in so many forms. You can you find pork in the form of bacon, ribs, roasts, sausage, salami, pork chops, tenderloin,
ham and more, many of which come in various varieties of their own, producing amazing pork dishes. Pork is a tender and delicious, fresh-tasting meat that can be cooked in endless ways, and can often be used in recipes that call for chicken or beef. Pork is fabulous barbequed and smoked, roasted, slow-cooked, in casseroles and pot pies, with pasta dishes, soups and stews, pizzas and more. Pork can be served for breakfast, lunch or dinner, or used as a tasty ingredient for appetizers and snacks. The more you cook with pork and experiment with a variety of pork dishes, you will learn more about the cuts you enjoy the most, and the ways you prefer to prepare those cuts. Below you will find a variety of pork recipes for baking, barbecuing, slow cooking and stir-frying, as well as recipes for pork casseroles, pulled pork sandwiches, pork stew and potstickers.
Pork Recipes ▼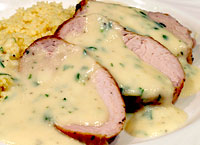 Pork Tenderloin with Creamy Apple Cider Sauce
features two cuts of pork tenderloin that are first briefly browned in a skillet, then placed in the oven to bake for less than 15 minutes. The tenderloins topped with a creamy apple cider sauce that adds the perfect flavor compliment to the pork. This pork tenderloin recipe also includes a quick and easy recipe for light and flaky couscous that perfectly accompanies the tenderloins.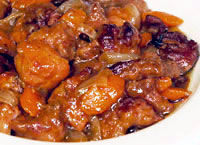 The flavors of apple cider and rosemary combine in this
Pork with Apple Cider recipe
to create a fabulous broth that tenderizes the pork to a mouth-watering degree when baked together in the oven. The carrots and onions (or leeks) are also tenderized, and contribute to the overall flavor of this delightful casserole dish. Photo shows this dish made with pork shoulder, though any tender cut of pork can be used.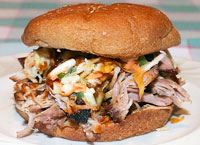 Pulled pork Sandwiches
have got to be one of the greatest sandwiches on the planet. Pork shoulder (also known as pork butt), is cooked slowly in the oven to produce a juicy and tender, pull-apart meat. The meat is then placed on a bun and topped with coleslaw and barbeque sauce. Any type of bun can be used with these pork sandwiches, and leftovers can be stored in the fridge for quick sandwiches the whole week long!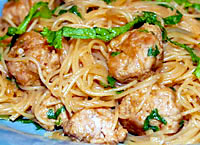 Rice Noodles with Pork and Peanut Sauce
is a fun, quick and easy and very tasty pasta dish that all ages will enjoy! Bite-size chunks of tender and lean browned ground pork are tossed with rice noodles along with some thinly sliced onions and mustard greens, then blended with a very flavorful peanut sauce made with soy sauce, chicken broth, peanut butter, hoisin sauce and a small amount of sugar.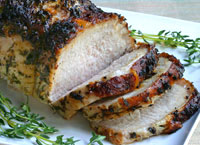 This
Roast Pork with Garlic and Thyme recipe
produces a juicy roast with delightful fresh herb, garlic and citrus flavor. Preparing this roast is as easy as seasoning the roast with salt and pepper, then slathering it with a mixture of chopped fresh thyme leaves, minced garlic, lemon juice, lemon zest and a little olive oil. Once slathered, simply place your herb-coated roast on a roasting rack in a roasting dish and pop it in the oven!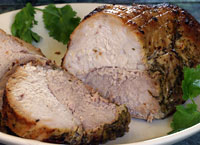 This
pork shoulder roast recipe
comes with a rub recipe made with freshly squeezed lime juice and freshly squeezed orange juice, along with some Mexican style herbs and seasonings that give the roast fresh and zesty flavor. The pork shoulder (also called pork butt or pork shoulder picnic roast) is cooked for 3 hours in the oven. Once cooked, some more freshly squeezed lime juice is drizzled over the roast for added zing!