Pork Tenderloin with Creamy Apple Cider Sauce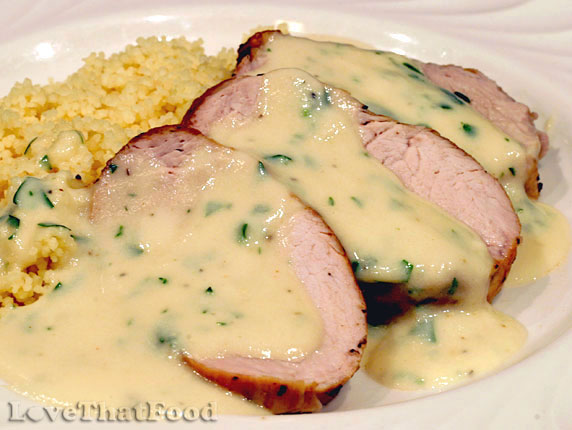 Cook Time:
About 27 minutes
Tips:
Sauce may be drizzled over tenderloin slices on a platter or individual serving plates, or served in a sauce or gravy boat to be drizzled as individually preferred.
This roast pork tenderloin recipe is both elegant and delicious! Pork tenderloin is a very lean and tender cut of pork that because of it's long and narrow shape, can be roasted in a very short time. Pork Tenderloin with Creamy Apple Cider Sauce features two cuts of pork tenderloin that are first briefly
browned in a skillet, then placed in the oven to bake for less than 15 minutes. The tenderloins are sliced, then topped with an easy, elegant and wonderful creamy apple cider sauce that adds the perfect flavor compliment to the pork. This pork tenderloin recipe also includes a quick and easy recipe for couscous that perfectly accompanies the pork tenderloins with its light and flaky texture and mildly savory flavor.
If preferred, this pork tenderloin recipe can also be made with pork loin, which comes in larger cuts, thus will require a longer cooking time (you will need to follow the cooking directions on the pork loin package). When serving, the pork tenderloin slices can be arranged on a serving tray alongside the couscous, with the sauce drizzled over the top of the tenderloin. Alternatively, the sauce can be poured into a sauce or gravy boat and served on the side to be drizzled over each individual serving as desired.
Ingredients
Pork Tenderloin

2 small pork tenderloins, about 3/4 lb. each
1/2 teaspoon salt
1/4 teaspoon ground black pepper
1 tablespoon olive oil



Couscous

1/2 cup water
1 cup chicken broth
1/4 teaspoon salt
1 1/2 cups couscous



Creamy Apple Cider Sauce

1 cup apple cider
2 tablespoons all-purpose flour
1/4 teaspoon salt
1/4 teaspoon black pepper
1/2 cup heavy cream
2 tablespoons Dijon mustard
2 tablespoons chopped fresh parsley
Directions
Pork Tenderloin
Heat oven to 425 °F.
Season pork with salt and pepper. Heat oil in a large nonstick skillet over medium-high heat. Brown tenderloins on all sides (about 7-8 minutes total), turning as needed to brown evenly.
Transfer tenderloins to a large baking dish and place in oven, uncovered. (Note: Leave any remnants and juices from pork tenderloins in skillet.) Bake for 12-14 minutes or until internal temperature registers 145°. Remove tenderloins from oven and cover with aluminum foil to keep warm.
Couscous
Place water, broth and salt in a medium saucepan and heat to a simmer. Turn off heat (keeping saucepan over burner) and stir in couscous. Cover and allow to stand for 5 minutes. (Fluff with a fork just before serving.) In the meantime, prepare Creamy Apple Cider Sauce (recipe follows)..
Creamy Apple Cider Sauce
Add flour to the broth and whisk until flour is completely dissolved. Add broth and flour mixture to the skillet you used to cook pork. Add apple cider and stir to combine. Bring to a simmer and cook for 5 minutes, stirring frequently. Stir in cream, mustard, salt and pepper and simmer for 1 minute more, then stir in parsley. Remove from heat and cover.
Assembly
Slice pork into 1/2-inch-thick servings and arrange on a platter or individual serving plates with couscous. Drizzle sauce over pork or serve sauce on the side in a sauce boat (or gravy boat) so sauce can be drizzled on each serving as desired.
Other recipes you might like: