Pork Normandy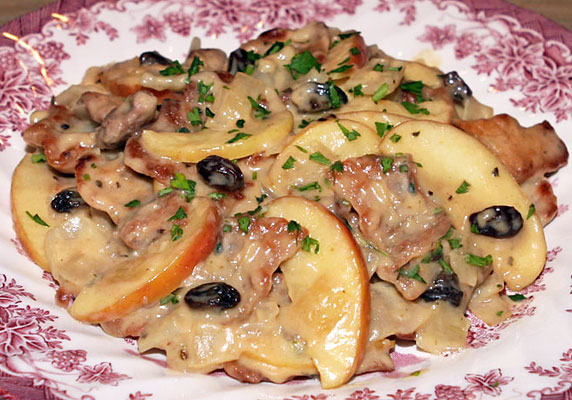 Cook Time:
About 10 minutes
Tips:
Slice apple after cutting pork, onion and parsley to help prevent browning from oxidation.
Suggestion:
Delicious alone or served with noodles or rice.
This recipe for Pork Normandy is made with a flavorful combination of thin slices of browned pork tenderloin (you can also use pork loin), thinly sliced apples, raisins and
chopped onions, and is then mixed with a mild yet flavorful French-style Dijon sauce made with milk, seasoned flour and Dijon mustard. The hint of natural sweetness that comes from the apples and raisins marries beautifully with the tanginess of the Dijon sauce, resulting in a delightful flavor (and texture) experience. The tenderized onions also have a natural sweetness that perfectly compliments this Pork Normandy recipe.
The above photo shows this dish made with pork loin, but pork tenderloin (a more tender cut of pork) will work just as nicely. You can choose your own favorite type of apple, as long as it is not too tart. I recommend using Gala (shown in photo), Fuji or Golden Delicious, while making sure to pick an apple that has nice color, as this will bring more color to the finished presentation.
Ingredients
1/2 teaspoon salt
1/2 teaspoon dried crushed oregano leaves
1/4 teaspoon pepper
3 tablespoons all-purpose flour
3/4 lbs. pork tenderloin or pork loin, cut into thin bite-sized slices
1/4 cup butter, divided
1 onion, chopped
1 large apple (Gala, Fuji or Golden Delicious), cored and thinly sliced
2 tablespoons Dijon mustard
1 cup milk
2 tablespoons raisins
chopped parsley (for garnish)
Directions
In a medium mixing bowl, combine salt, oregano, pepper and flour. Dredge pork in flour mixture, shaking off excess back into mixing bowl. Set remaining flour mixture aside.

Place a large skillet or wok over medium-high heat. When skillet is hot, add 2 tablespoons of the butter. When butter is melted, add pork and stir-fry until browned (about 2-3 minutes). Remove pork from skillet and set aside.

Add remaining 2 tablespoons butter to skillet. When butter is melted, add onion and stir-fry until soft (about 3 minutes). Add apple slices, then sprinkle in remaining flour mixture and stir-fry for about 1 minute. Stir in mustard and milk to combine and bring to a boil. Return pork to skillet and stir-fry for about 2 minutes. Stir in raisins, then sprinkle with parsley. Serve alone or over noodles or rice.
Other recipes you might like: