Pork
Pork has tremendous flavor, and comes in so many forms. You can you find pork in the form of bacon, ribs, roasts, sausage, salami, pork chops, tenderloin,
ham and more, many of which come in various varieties of their own, producing amazing pork dishes. Pork is a tender and delicious, fresh-tasting meat that can be cooked in endless ways, and can often be used in recipes that call for chicken or beef. Pork is fabulous barbequed and smoked, roasted, slow-cooked, in casseroles and pot pies, with pasta dishes, soups and stews, pizzas and more. Pork can be served for breakfast, lunch or dinner, or used as a tasty ingredient for appetizers and snacks. The more you cook with pork and experiment with a variety of pork dishes, you will learn more about the cuts you enjoy the most, and the ways you prefer to prepare those cuts. Below you will find a variety of pork recipes for baking, barbecuing, slow cooking and stir-frying, as well as recipes for pork casseroles, pulled pork sandwiches, pork stew and potstickers.
Pork Recipes ▼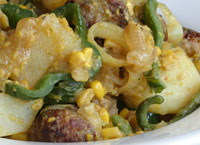 This
Sausage with Corn, Peppers and Potatoes recipe
offers terrific full flavor as well as a little fun combined with elegance! Generous bite-size chunks of browned Italian sausage and large chunks of baked potatoes are combined with kernels of yellow or white corn, sliced poblano peppers and sautéed onions. These tasty ingredients are cooked with some chicken broth, giving the dish the right amount of moisture as well as flavor.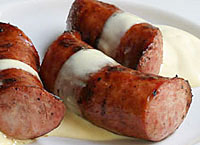 Sausages with Mustard Cream
is a surprisingly delicious main course (or see the Sausages with Mustard cream appetizer recipe version) that features grilled smoked or other sausages served with a creamy mustard dipping sauce made with whipping cream, Dijon mustard, prepared horseradish, white wine vinegar, egg yolks and a hint of sugar. Any type of smoked sausage or kielbasa will work beautifully with the Mustard Cream Sauce.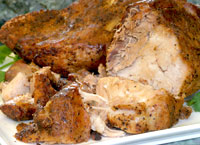 Whether you call it pork shoulder or pork butt, when you rub your pork roast with a great combination of herbs and seasonings and let it roast slowly in the oven, you you're in for a tender and juicy mouth-watering experience! This
easy roasted pork recipe
features a zesty adobo (rub) that will bring a jazzy flavor to your pork shoulder and tastes fabulous whether served alone or shredded to be served with dishes using tortillas.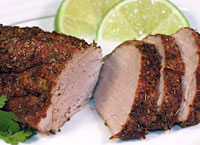 Preparing this
Spicy Pork Loin recipe
is simply a matter of rubbing a dry rub mixture all over the roast, then placing it in the oven for about 1 1/2 hours or until its internal temperature reaches 160° F. After cooked, you will have a juicy roast with a crispy outer crust that's packed with lively flavor. Pork loin or pork tenderloin can be used with this recipe (photo shows this recipe made with pork tenderloin).
Twice-Cooked Pork
features thin bite-size slices of twice-cooked lean pork, red and green bell peppers and green onion. Just before serving, these ingredients are stir-fried with garlic and ginger, then combined with a delicious peppery sauce consisting of hoison sauce, soy sauce, dried red chilies and a small amount of sugar. Twice-Cooked Pork derives its name from the fact that the pork is simmered in a seasoned broth, then stir-fried.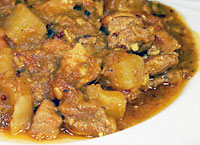 Vindaloo Curry
is a delicious Indian dish made with pork (or chicken), potatoes and some commonly used ingredients and Indian spices that give this dish its authentic Indian flavor. The curry sauce is made by pureeing sautéed onions with an assortment of other ingredients to create a flavorful paste, then simmering that paste with the meat, potatoes and other remaining ingredients.