Pork
Pork has tremendous flavor, and comes in so many forms. You can you find pork in the form of bacon, ribs, roasts, sausage, salami, pork chops, tenderloin,
ham and more, many of which come in various varieties of their own, producing amazing pork dishes. Pork is a tender and delicious, fresh-tasting meat that can be cooked in endless ways, and can often be used in recipes that call for chicken or beef. Pork is fabulous barbequed and smoked, roasted, slow-cooked, in casseroles and pot pies, with pasta dishes, soups and stews, pizzas and more. Pork can be served for breakfast, lunch or dinner, or used as a tasty ingredient for appetizers and snacks. The more you cook with pork and experiment with a variety of pork dishes, you will learn more about the cuts you enjoy the most, and the ways you prefer to prepare those cuts. Below you will find a variety of pork recipes for baking, barbecuing, slow cooking and stir-frying, as well as recipes for pork casseroles, pulled pork sandwiches, pork stew and potstickers.
Pork Recipes ▼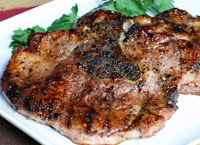 This tasty
grilled pork chop recipe
features a basting sauce made with apple cider, apple jelly, Dijon mustard and some red pepper flakes to give the sauce a lively "kick." The pork chops are lightly brushed with olive oil and seasoned with salt, pepper, garlic and red pepper flakes as well. The basting sauce takes only a few minutes on the stove while the pork chops take only about 15 minutes on the grill!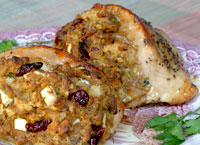 Boneless pork chops transform into an elegant and delicious dish with this easy
Pork Chops with Apple Cranberry Stuffing
recipe! Pork chops are sliced through the side to create pockets. A bread stuffing combined with chopped apples and dried sweetened cranberries is spooned into the pockets. After 20 minutes of baking, a buttery brown sugar glaze is brushed over the tops, and the chops are broiled until lightly browned.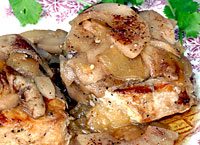 Pork is always delicious when accompanied by the flavor of apples. This
Pork Chops with Apples
recipe celebrates browned pork chops and apples in one of the easiest ways possible, with the help of a slow cooker. The Slow Cooker cooks the pork chops slowly, allowing the meat to tenderize while it soaks up the savory sweet juices produced by apples, pork and seasonings. The apples become tender and delicious as well!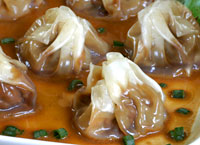 This
Pork Dumpling recipe
(or Chinese dumplings) is a fun and flavorful meat appetizer that appeals to all ages! This dumpling recipe features wonton skins that are filled a mixture of shredded pork, soy sauce, sugar, freshly grated ginger root and minced garlic. The wonton skins are wrapped up around the pork mixture and twisted at the top. The dumplings are then are steamed until cooked and placed on a bed of a tangy sauce.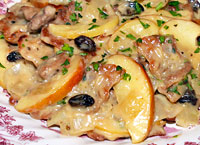 Pork Normandy
features a flavorful combination of thinly sliced browned pork loin or pork tenderloin, thinly sliced apples, raisins and chopped onions, and is then mixed with a mild yet flavorful sauce made with milk, seasoned flour and Dijon mustard. The hint of natural sweetness that comes from the apples, raisins and tenderized onions marries beautifully with the tanginess of the Dijon sauce, resulting in a delightful flavor and texture!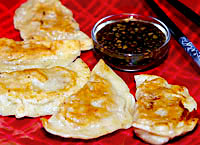 Pork Pot Stickers with Dipping Sauce
, also referred to as Jiaozi or Chinese dumplings, is a fun and tasty Asian dish that is wonderful served as a main dish or as an appetizer. This pot sticker recipe consists of a delicious mixture of ground pork and vegetables wrapped up in small pasta shapes and is served with a delicious dipping sauce that adds just the right flavor and boost for this Asian dish.