Bacon Wrapped Pork Tenderloin with Cornbread Stuffing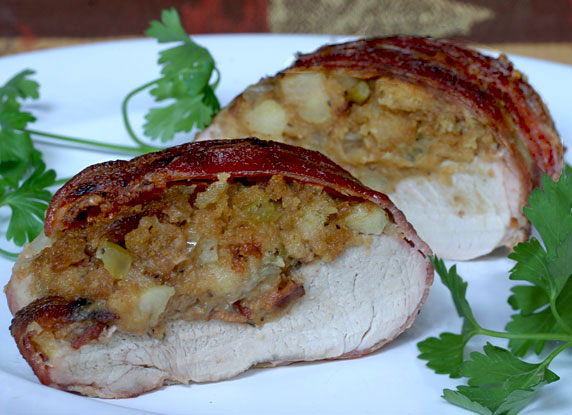 Suggestion:
Delicious served with a vegetable side or salad.
Of the many pork tenderloin recipes out there to try, this is one you will not want to pass up! This recipe for Bacon-Wrapped Pork Tenderloin with Cornbread Stuffing produces tender roasted pork tenderloin with a delicious cornbread stuffing, wrapped up in glorious strips of bacon! Let's begin with the delicious cornbread stuffing. Once a few slices of bacon have been cooked and crumbled, diced celery, onions,
chopped apples and garlic are sautéed with seasonings in a small amount of the bacon grease and some butter. The crumbled bacon is then added to the stuffing, along with some apple cider to add moisture and flavor to the stuffing. Preparing and cooking the pork tenderloin is a snap! The tenderloin is simply sliced lenghtwise (not quite all the way through), then opened and topped with the cornbread stuffing. More slices of uncooked bacon are then wrapped around the tenderloin and the stuffing, holding it all together. As the bacon cooks and crisps in the oven, it adds more flavor to the stuffing and tenderloin. In less than an hour, your fabulous bacon-wrapped and stuffed pork tenderloin is cooked to perfection! One single cut of pork tenderloin will produce about 4 servings. Pork tenderloin often comes with two cuts of tenderloin per package, so if the package you purchased contains two pork tenderloins, you can opt to either double this recipe to create 8 servings, or save (freeze, if desired) the second tenderloin for another future pork tenderloin recipe.
Ingredients
7-8 slices bacon, divided
3 tablespoons butter
1/2 cup chopped onion
1/3 cup chopped red cooking apple (Fuji, Gala, Rome, Jonathon, etc.)
1/4 cup chopped celery
1 garlic clove, minced
1/2 teaspoon poultry seasoning
1/4 teaspoon salt
1/8 teaspoon ground pepper
3/4 cup cornbread stuffing mix
1/3 cup apple cider
1 1 1/2 to 2-lb. pork tenderloin
Directions
Preheat oven to 375°F.

Cook 3 slices bacon in a large skillet just until fully cooked. Carefully remove all but 1 tablespoon of bacon grease from the pan. Add the 3 tablespoons of butter and melt over medium heat. Stir in onion, apple, celery, garlic, poultry seasoning, salt and pepper. Continue cooking over medium heat until the onions are tender (about 7 minutes). Stir in crumbled bacon and cornbread stuffing. Add apple cider and stir until all ingredients are thoroughly combined and stuffing has evenly soaked up the apple cider.

Place 4-5 remaining slices of bacon about 2 inches apart across the short length of a 15x10x1-inch baking pan (the pork tenderloin will be placed over the bacon).

Make a lenthwise cut down the center of the side of the tenderloin, being careful to not cut all the way through. Lay tenderloin on top of the bacon slices. Open the tenderloin, then spoon the stuffing over the top, spreading to evenly cover. Wrap the bacon slices around the tenderloin, overlapping on top and tucking under the bottom of tenderloin if necessary.

Bake for 40-45 minutes, or until the internal temperature of the stuffing is 160°F. Allow to stand for about 10 minutes before slicing.
Other recipes you might like: