Appetizers and Snacks
Appetizer and snack recipes (also referred to as snacks, finger food, party food, hors d'oeuvres and canapés) are almost always easy to make and can be made with almost any food imaginable. They c an be mild or spicy, hot or cold, made with meat or vegetarian style, and in many cases require little or no refrigeration. Appetizers can be prepared in endless ways, and can be served for most any occasion, whether it be a holiday, party or social event,
and can cater to a small group or a large crowd. They can also simply be made as tasty snacks for your family or friends anytime. Some appetizers can even be served as a side dish to a main course or as the main course itself. Below you will find a collection of my personally tested favorite appetizer and snack recipes that have been a huge hit at parties, holidays and other events.
When you click on any of these appetizer recipes, you will be taken to LoveThatFood's sister website,
EndlessAppetizers.com
, where all the appetizer recipes have been broken down into convenient categories to help make your search for the perfect appetizer much easier. EndlessAppetizers.com will open in a separate new window, allowing you to continue browsing recipes on LoveThatFood.com. On these appetizer pages, you'll find recipes for cheese appetizers, egg appetizers, bread appetizers, meatball appetizers, pastry appetizers, vegetable appetizers, dips and salsa, appetizers for kids and more. New appetizer recipes will be added often, so please visit these pages again soon or visit EndlessAppetizers.com!
Appetizer Recipes ▼
If you're looking for easy appetizers for parties or simply a fun snack for all ages, this fried pickle recipe is right up your alley!
Fried Pickles with Tangy Asian Dipping Sauce
feature bread and butter pickle chips (or dill pickle chips if you're a dill pickle fan) coated in a seasoned cornmeal mixture, then fried until golden and crispy. A tangy and mildly spicy dipping sauce featuring a few Asian flavors is served on the side, making this fun snack complete!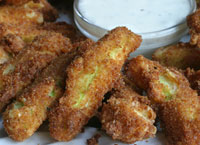 Whether you like to call them fried zucchini sticks or zucchini fries, one thing is certain - these crispy
Fried Zucchini Sticks
are universally enjoyed by everyone, including kids and the young at heart! For those kids who tend to shy away from green vegetables, these fun and tasty Fried Zucchini Sticks recipe will likely make them forget all about the fact that they're actually eating a green vegetable!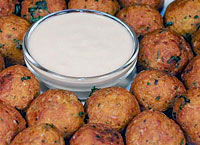 Garbanzo Ball appetizers
are made with a mixture of garbanzo beans (also known as "chickpeas"), lemon juice, minced garlic a little cayenne pepper and an assortment of herbs and spices. They are perfectly accompanied by a Tahini dipping sauce made with Tahini (also sometimes called "Tehina"), a paste made from ground sesame seeds, freshly squeezed lemon juice and a little water.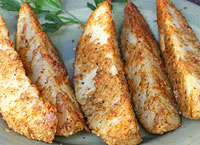 These
Garlic Parmesan Potato Wedges
are as easy to make as they are delicious! Simply cut some Russet potatoes lengthwise to create wedges, toss them in some olive oil, then toss them again with a super easy mixture of parmesan cheese, garlic powder, thyme, salt and pepper and pop them in the oven for 35-40 minutes, and you've got a fantastic tasting side dish, snack or appetizer!
Looking for grape appetizer recipes? If you'd like to try a new and uniquely-tasting appetizer that has great eye appeal and a combination of interesting textures, these
Ginger Pecan Cream Cheese Grapes
are a great place to start! Seedless grapes are coated with cream cheese that has been combined with some finely chopped crystallized ginger, then the grapes are rolled in finely chopped toasted pecans and chilled.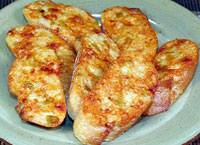 Green Chile Canapés
are mini slices of bread made from long and slender loaves of French, sourdough, ciabatta or other similar crusty bread. These small bread bites (also referred to as "crostini") are coated with a spread made with butter and mayonnaise, Monterey jack or cheddar cheese (or both), diced green chiles. They are then sprinkled with paprika for color and added flavor and broiled to a light golden color.