Appetizers and Snacks
Appetizer and snack recipes (also referred to as snacks, finger food, party food, hors d'oeuvres and canapés) are almost always easy to make and can be made with almost any food imaginable. They c an be mild or spicy, hot or cold, made with meat or vegetarian style, and in many cases require little or no refrigeration. Appetizers can be prepared in endless ways, and can be served for most any occasion, whether it be a holiday, party or social event,
and can cater to a small group or a large crowd. They can also simply be made as tasty snacks for your family or friends anytime. Some appetizers can even be served as a side dish to a main course or as the main course itself. Below you will find a collection of my personally tested favorite appetizer and snack recipes that have been a huge hit at parties, holidays and other events.
When you click on any of these appetizer recipes, you will be taken to LoveThatFood's sister website,
EndlessAppetizers.com
, where all the appetizer recipes have been broken down into convenient categories to help make your search for the perfect appetizer much easier. EndlessAppetizers.com will open in a separate new window, allowing you to continue browsing recipes on LoveThatFood.com. On these appetizer pages, you'll find recipes for cheese appetizers, egg appetizers, bread appetizers, meatball appetizers, pastry appetizers, vegetable appetizers, dips and salsa, appetizers for kids and more. New appetizer recipes will be added often, so please visit these pages again soon or visit EndlessAppetizers.com!
Appetizer Recipes ▼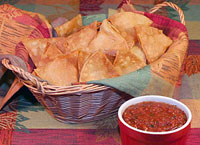 Once you try this
homemade Salsa recipe
, and these homemade tortilla chips, premade bottled salsa will never again be able to compare. This salsa is best served with Homemade Tortilla Chips, because of their undeniable freshness and crisp, though packaged chips can also be used.
Salsa and Tortilla Chips
are always a huge hit that offer the perfect perfect blend of flavor and spice, making them a quick disappearing act!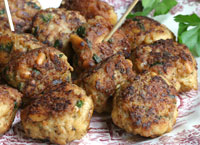 This
turkey meatball recipe
is delicious served as a main course with pasta and some
Marinara
poured over the top, but can also be made as a healthy appetizers for parties simply by reducing their size. These meatballs can be made with ground turkey, ground turkey breast, ground beef or ground pork, if desired. Thanksgiving holiday turkey leftovers can also be used to make these meatballs with a little help from a food processor!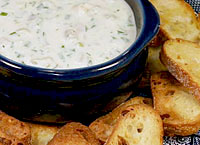 Turkey Artichoke Cheese Dip
is made with smoked sliced turkey, marinated artichoke hearts, sautéed diced green onions, and a combination of Parmesan and cream cheese, and is heated briefly on the stove and served warm (though is still delicious as it cools). It is a great dip to serve anytime, or during the holiday season, when many are cooking turkey dinners and serving other dishes that surround the turkey theme.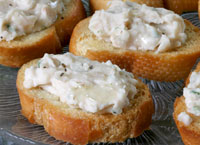 The beauty of this
White Bean Bruschetta recipe
is its simplicity, which appeals to both kids and adults. This bruschetta recipe features small slices of a baguette or ciabatta loaf topped with a puréed mixture of white beans, fresh rosemary, olive oil and seasonings. This recipe is as inexpensive as it is easy, and will feed a small crowd. With just a single baguette or ciabatta loaf and a can of any type of white beans, you're set!