Appetizers and Snacks
Appetizer and snack recipes (also referred to as snacks, finger food, party food, hors d'oeuvres and canapés) are almost always easy to make and can be made with almost any food imaginable. They c an be mild or spicy, hot or cold, made with meat or vegetarian style, and in many cases require little or no refrigeration. Appetizers can be prepared in endless ways, and can be served for most any occasion, whether it be a holiday, party or social event,
and can cater to a small group or a large crowd. They can also simply be made as tasty snacks for your family or friends anytime. Some appetizers can even be served as a side dish to a main course or as the main course itself. Below you will find a collection of my personally tested favorite appetizer and snack recipes that have been a huge hit at parties, holidays and other events.
When you click on any of these appetizer recipes, you will be taken to LoveThatFood's sister website,
EndlessAppetizers.com
, where all the appetizer recipes have been broken down into convenient categories to help make your search for the perfect appetizer much easier. EndlessAppetizers.com will open in a separate new window, allowing you to continue browsing recipes on LoveThatFood.com. On these appetizer pages, you'll find recipes for cheese appetizers, egg appetizers, bread appetizers, meatball appetizers, pastry appetizers, vegetable appetizers, dips and salsa, appetizers for kids and more. New appetizer recipes will be added often, so please visit these pages again soon or visit EndlessAppetizers.com!
Appetizer Recipes ▼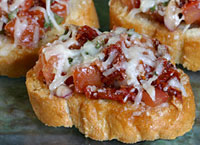 This
Double Tomato and Cheese Bruschetta recipe
features chopped fresh tomatoes and sun-dried tomatoes, with chopped red onion, fresh basil and minced garlic. These fresh ingredients are tossed together with a marinade of balsamic vinegar, extra virgin olive oil, Kosher or sea salt and freshly ground pepper. The tomato mixture is then topped with Asiago and Parmesan cheese, then broiled until melted and bubbly.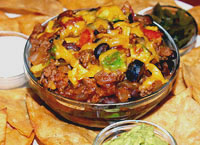 This
Festive Nachos recipe
combines tender lean ground beef, salsa, black beans, avocado and tomato chunks, ripe olives and a hint of chili powder. You can serve this dish with
homemade tortilla chips
and/or warm corn or flour tortillas for filling. Photo shows Festive Nachos with served with sides of sour cream, pickled jalapenos and Creamy Guacamole. You can kick this nachos recipe up a notch with a few added ingredients.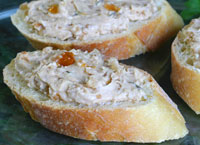 Feta and Goat Cheese Bruschetta with Marmalade
has a mildly sweet and savory flavor, and is great served for parties and holidays. This tasty bruschetta is made with a combination of goat cheese and feta cheese, combined with a marmalade made with honey, apricot preserves, balsamic vinegar and fresh thyme. This bruschetta recipe can be made with toasted or untoasted baguette or other bread slices.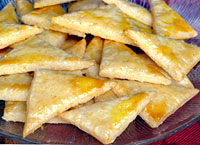 In a very short time and with just a few ingredients, you can create these fun and flavor-packed
Flaky Cheese Trianges
! These shiny golden petite triangles are made with a combination of flour, a dash of salt and cayenne pepper (giving these snacks the perfect added kick), shredded cheddar cheese and chilled butter. You can cut these little pastry puffs into any shape you like, and can subsitute other cheeses for the cheddar.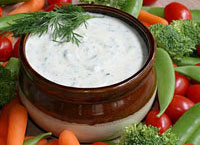 Fresh Herb Yogurt Dip
is a light and healthy dip that tastes fabulous with assorted fresh vegetables. It is made with yogurt, fresh dill, fresh parsley, lemon juice and lemon zest (optional), along with some honey and Dijon mustard, giving it a sweet and tangy flavor boost. Photo shows Fresh Herb Yogurt Dip served with baby carrots, broccoli, sugar snap peas and cherry tomatoes, but you can add almost any fresh vegetable to the mix.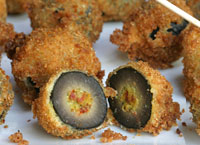 These fun and tasty pesto stuffed olives are easy to make, are enjoyed by all ages, and can sit virtually for hours at room temperature.
Fried Pesto Stuffed Olives
can be made with large black or large green olives, or a combination of both; each offering its own uniquely delicious flavor! These pesto-stuffed olives are the perfect finger food to serve at holiday parties, as Thanksgiving appetizers or any type of social event!