Appetizers and Snacks
Appetizer and snack recipes (also referred to as snacks, finger food, party food, hors d'oeuvres and canapés) are almost always easy to make and can be made with almost any food imaginable. They c an be mild or spicy, hot or cold, made with meat or vegetarian style, and in many cases require little or no refrigeration. Appetizers can be prepared in endless ways, and can be served for most any occasion, whether it be a holiday, party or social event,
and can cater to a small group or a large crowd. They can also simply be made as tasty snacks for your family or friends anytime. Some appetizers can even be served as a side dish to a main course or as the main course itself. Below you will find a collection of my personally tested favorite appetizer and snack recipes that have been a huge hit at parties, holidays and other events.
When you click on any of these appetizer recipes, you will be taken to LoveThatFood's sister website,
EndlessAppetizers.com
, where all the appetizer recipes have been broken down into convenient categories to help make your search for the perfect appetizer much easier. EndlessAppetizers.com will open in a separate new window, allowing you to continue browsing recipes on LoveThatFood.com. On these appetizer pages, you'll find recipes for cheese appetizers, egg appetizers, bread appetizers, meatball appetizers, pastry appetizers, vegetable appetizers, dips and salsa, appetizers for kids and more. New appetizer recipes will be added often, so please visit these pages again soon or visit EndlessAppetizers.com!
Appetizer Recipes ▼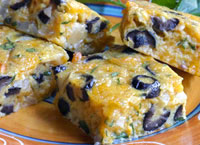 Chile Cheese and Olive Squares
can be served as finger food appetizers, as a colorful side dish with breakfast or brunch, or as an anytime snack. They are tasty served warm or cold, and are easier than ever to make! Chile Cheese and Olive Squares are made with eggs, cheddar cheese, ripe olives, sautéed onion and garlic, diced green chiles, Tabasco or other hot pepper sauce, bread crumbs and parsley.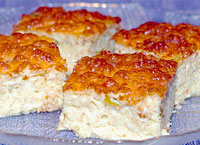 Chile Cheese Bites
are great served as an appetizer, a side dish for breakfast or brunch, or a quick breakfast on the run. They taste great hot from the oven or cold right out of the frige! These little egg and cheese appetizers have a similar texture to quiche (without the pastry crust). Like many egg dishes, Chile Cheese Bites, can also be served with a side of red or green salsa, sour cream and/or guacamole.
Chili Cheese Balls
are perfect served as appetizers or snacks, and are delicious on their own or served with assorted crackers. Chili Cheese Balls consist of Monterey jack cheese, Mozzarella cheese and cream cheese, and are seasoned with chili powder, Dijon mustard, Worcestershire sauce and garlic powder. Photo shows cheese balls coated with minced parsley, though they can also be coated with nuts or other ingredients.
Chili Con Queso
is a tasty cheese and chili-flavored dip that is served warm, traditionally served with tortilla chips (especially great with
homemade tortilla chips
as shown in photo). This festive dip recipe combines cheese, chili powder, a small amount of jalapenos and other spices, resulting in a very lively dip with just the right amount of spice. Chili Con Queso also goes great with with French fries, fresh raw vegetables or over baked potatoes!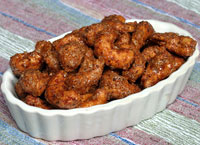 Flavored roasted nuts are always an easy appetizer snack to put together, and a big hit, whether served during the holidays, at parties and social gatherings, or for anytime snacking. These
Chili Roasted Cashews
have a wonderful crispy outer crunch and a delicious mildly spicy, sweet and salty flavor provided by a mixture of chili powder, cayenne pepper, cumin, sugar and coarse salt. Loved by all ages!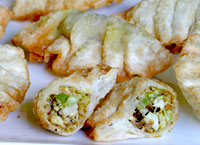 Chinese Tacos
are great for all ages! These Asian dumplings feature wonton skins that are trimmed into circles, then filled with a tasty mixture of minced cooked meat (pork, chicken or beef can be used), diced green onions, diced celery, thinly sliced Napa cabbage and diced Shitake mushrooms (optional), seasoned with soy sauce, curry powder and a dash of white pepper. The wontons are folded, pleaded, then fried until crispy.