Lemon Cheese Pizza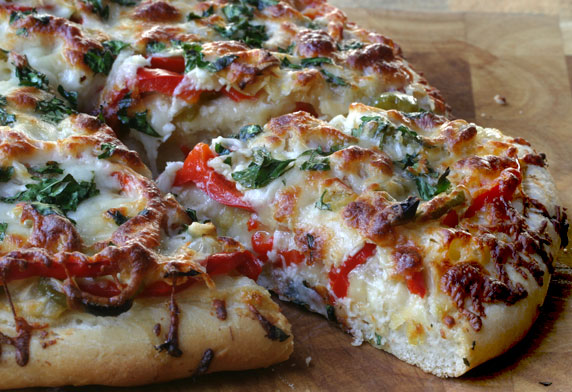 Tips:
Lemon zest may be omitted for a more subtle lemon flavor. Regular lemons or Meyer lemons may be used.
Suggestion:
Delicious served with a leafy green
salad
.
When it comes to pizza, the opportunities are endless! This unique and colorful Lemon Cheese Pizza begins with an easy recipe for
homemade pizza dough
, which is half of the fun! Once the dough has risen and has been shaped into a pizza round (and has risen again for at least 20 minutes), it is brushed with some olive oil and sprinkled with a modest amount of lemon zest. (Note: Lemon zest has potent lemon flavor,
thus is optional if you prefer a more mild lemon flavor.) The topping ingredients (slices of lemon, red bell pepper, jalapeno pepper and garlic) are sautéed for a couple minutes in a skillet, then arranged on the pizza dough. A blend of 3 or 6 Italian cheeses is then arranged over the top of the sautéed ingredients and some chopped fresh Italian parsley is sprinkled over the top of the cheese. (Tip: Bags of shredded 3 or 6 Italian Cheese blend can be found in the cheese section of most grocery stores. One bag is all you'll need.) This pizza recipe can be made into one medium or large pizza (depending on how thick you roll out the dough), or 2-4 smaller individual serving-size pizzas (of course, the more pizzas you make, the smaller the pizzas will be). You can use regular lemons or Meyer lemons with this recipe (Meyer lemons usually cost a little more than regular lemons but are known to have a sweeter flavor with less acidity). Lemon Cheese Pizza is an easy and tasty way to prepare a healthy dinner or lunch; and as with most other pizza recipes, ingredients can always be adjusted to your personal preference, whether you add or subtract certain ingredients!
Ingredients
2 lemons
1 teaspoon grated lemon peel
olive oil (as needed)
2 jalapenos, seeds removed and thinly sliced
1 red bell pepper, seeds removed and thinly sliced
4 garlic cloves, thinly sliced
1 8-oz. bag shredded Italian 3 or 6-cheese blend
1/4 cup chopped fresh Italian parsley
Directions
Preheat oven to 425°F.
After grating 1 teaspoon of peel from 1 of the lemons, remove any remaining skin and pith (the white part) from lemon. Peel off skin and pith from other remaining lemon, then slice off both ends from lemons and thinly slice. Remove any seeds and set aside.
Print out
Pizza Dough recipe
and follow the "Basic Pizza Dough" recipe instructions. After dough has risen once, manually flatten the dough on a lightly floured work surface and form into a 12-inch-round crust. Cover with a light towel and allow to rise for about 20 minutes or more.
Once dough round has risen, gently brush with olive oil and sprinkle with the grated lemon peel. Set aside.
In a large skillet, heat enough oil to coat the pan over medium heat. Add lemon slices, jalapenos, bell pepper and garlic. Sauté for 2 minutes. Using tongs or a slotted spoon, transfer sautéed mixture to pizza dough, evenly arranging over the top. Spread cheese evenly over the top of ingredients then sprinkle with chopped parsley.
Bake for 15-20 minutes, or until the cheese bubbles and outer crust turns light golden and appears crisp. Slice and serve.
Other recipes you might like: