Pizza is popular all over the world. It can be made so many ways, with any variety of toppings, and can be served for breakfast, lunch or dinner. you'll even find a pizza recipe for a pizza loaf (pizza ingredients cooked into homemade bread).
Pizza dough also plays a huge role in the taste and texture of a pizza, and can be prepared in a variety of ways, such as thick or thin, with white or whole wheat (or other) flour, with or without herbs or other ingredients, etc. While it is tempting to purchase a ready-made pizza dough from the grocery store, you might want to reconsider, because making homemade pizza dough is much easier than you would think. If you have flour, you can make your own pizza dough, with or without a bread machine. Aside from the understanding the homemade pizza tastes incredible, let's not forget to mention how much money you save by making your own! As for leftovers, what could be better than grabbing a cold slice of pizza from the fridge for breakfast the following morning? Below you'll find a few pizza recipes (as well as recipes for pizza dough) for starters.
Pizza Recipes ▼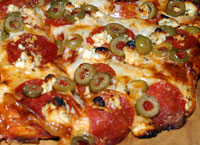 This
Pepperoni, Green Olives and Feta cheese pizza recipe
presents yet another fabulous way to celebrate pepperoni! This pizza begins with a homemade pizza dough (or you can buy pre-made dough), and a traditional base of mozzarella cheese. Toppings of feta cheese (plain or herbed feta cheese may be used), pepperoni slices and sliced green olives are then generously arranged on top.
Pesto Pizza
is a tangy, fresh and delightful pizza recipe, combining the flavors of pesto sauce (a combination of fresh basil leaves, garlic, pine nuts, Parmesan cheese and olive oil, all pureed to a spreadable consistency), sun-dried (or fresh) tomatoes and marinated artichoke hearts amidst generous helpings of mozzarella and Parmesan cheeses. This pizza can be served vegetarian style or with shredded or cubed chicken.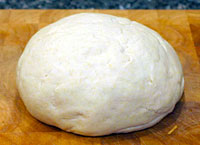 Taking a little extra time to create your own
Pizza Dough
is well worth the small effort and is actually quite fun! Whether your preference is one large pizza, a few individual-sized pizzas or thick or thin crust, you'll have the control and freedom to choose by making your own pizza dough. Here you'll find a variety of pizza dough recipes from which to choose. Making your own pizza dough opens the door to new pizza creations!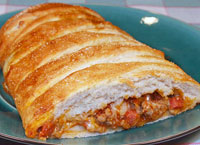 Ready to try the great flavors of pizza in a different form? This
Pizza Loaf recipe
features diced pepperoni, crumbled Italian sausage, grated mozzarella cheese and a generous helping of pizza sauce, all baked inside a fluffy easy-to-make pizza dough. This recipe makes a 14-inch-long loaf that is not only delicious, it looks impressive! You can also customize this loaf by using any variety of your favorite ingredients.
This
homemade Pizza Sauce recipe
not only has that unmistakable homemade flavor, it produces a little over 5 cups of sauce, which will allow you to coat a few pizzas, or freeze the pizza sauce for future use. If you've ever wondered how to make homemade pizza sauce, this recipe will show you just how easy it is to make, and how much rich and full flavor it will add to your homemade pizza!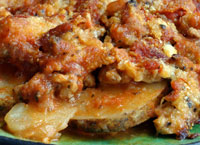 Potato Pizza Lasagna
is a fun, tasty and economical alternative to traditional lasagna recipes. If you enjoy pizza, lasagna and potatoes, you'll be able to enjoy the flavors of all three with this tasty potato and pizza lasagna recipe! For those following a gluten-free diet, this recipe can also be served as a gluten free lasagna. This potato casserole can be baked in the oven (1 hour 15 minutes) or microwave oven (20 minutes).