Breakfast Pizza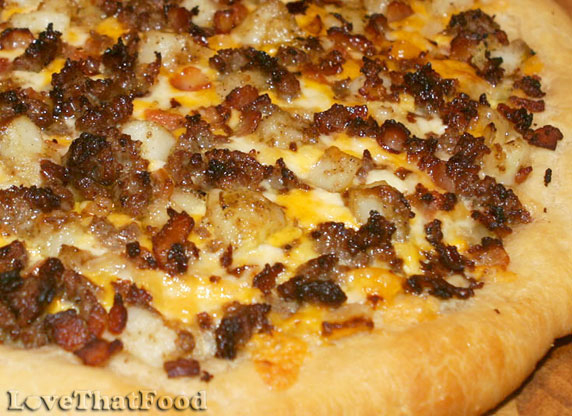 Yield:
1 large pizza or 6-8 slices
Suggestion:
Delicious served with a side of fresh fruit.
Breakfast Pizza is a fun and delicious way to serve breakfast, and provides a 4-course breakfast, all sitting on top of one delicious homemade pizza dough! It's also great for
brunches or other events that take place before lunchtime. This Breakfast Pizza recipe features lightly scrambled eggs combined with mild green chilies, crumbled breakfast sausage, bits of bacon, cubed potatoes sautéed with onion and garlic and shredded mozzarella and cheddar cheeses. All these ingredients rest on top of a fresh homemade Basic Pizza Dough, which is comparable to having a couple slices of bread with your breakfast! This pizza recipe uses one-half of some of the ingredients, so if you need to make two pizzas for an event, you will conveniently be using up all of the ingredients at one time. This is a warm, comforting and delicious way to start your day, and is loved by all ages.
Ingredients
1 Basic Pizza Dough recipe (follow link)
6 oz. bulk breakfast sausage (1/2 12-oz. package)
1/2 of 1 large russet potato
4 slices bacon, cut into bite-size pieces
1/2 an onion, chopped
3-4 cloves garlic, minced
1/2 can (2 oz.) mild green diced chilies
6 eggs
1 cup grated cheddar cheese
1 cup grated Monterey jack cheese
salt and pepper to taste
2 tablespoons olive oil
1 tablespoon butter
Directions
Follow
Basic Pizza Dough recipe
from Pizza Dough page. When at the point of forming the dough into a pizza, press the dough into a 12-inch circle, making a raised lip all the way around the outside edge (this is to prevent the eggs from spilling out). Spray a pizza pan or baking sheet with nonstick spray, then carefully lift dough and place on pizza pan or baking sheet, gently reforming wherever necessary to make a round circle. (Note: For a crispier bottom crust, a pan with holes works best.) Cover with a lightweight towel and place in a warm area (such as near the oven). Allow to rise for about 20 minutes.
Preheat oven to 400° F.
Slice 1/2 of the potato into 4 pieces, and place in a pot of boiling water (enough water to cover potato pieces). After adding potatoes, turn heat down to a gentle, rolling boil (medium heat), and cook for 10 minutes. Drain and allow to cool until easy to handle with your hands (about 2 minutes). Cut potatoes into bite-size chunks. Heat a large skillet, then add 1 tablespoon olive oil. When oil is hot, add potatoes, and fry until lightly browned. Add onions and garlic, and cook for another 2 minutes. Place potato, onion and garlic mixture in a bowl and set aside.
In the same skillet, place sausage and bacon pieces cook on medium-high until bacon is lightly crisped and sausage is lightly browned (about 3-5 minutes). Scoop sausage and bacon into a bowl and set aside.
In a medium mixing bowl, beat eggs, then add diced green chilies and stir to combine. Add butter and 1 tablespoon olive oil to the same skillet you have been using (no need to clean). When butter melts, blend oil and butter, then add egg and chili mixture. Cook over medium heat, stirring slowly and constantly until eggs reach a runny oatmeal-like consistency (eggs will be slightly runny, but firm enough to spoon onto pizza dough). Salt and pepper to taste. Remove skillet from heat and allow eggs to cool for about 2 minutes.
Spoon egg mixture onto pizza dough and gently spread around to evenly cover dough. Sprinkle cheeses evenly over egg mixture, then add the potatoes with onion and garlic, evenly spreading around. Top with sausage and bacon. Bake in oven for 10-15 minutes, or until edges of pizza crust are lightly browned. Serve immediately.
Other recipes you might like: