Buttermilk Brownies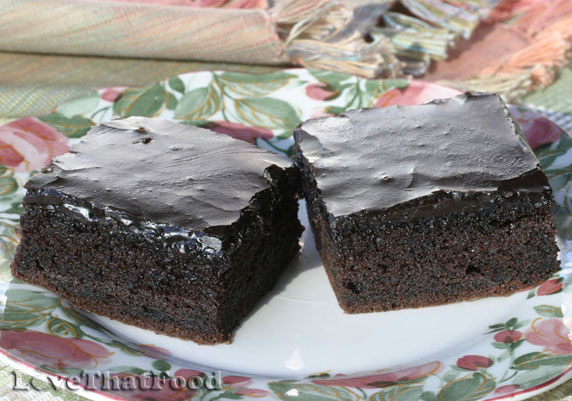 Yield:
About 24 brownies, depending on size of cuts
Tips:
Allow brownies to cool before pouring frosting on top.
Suggestion:
Serve at room temperature or warmed (about 10-15 seconds in the microwave)
Nothing beats homemade brownies! There's something about that fabulous smell that fills your house while they're baking, and the fresh, authentic flavor of brownies made from scratch and baked in your own oven that just can't be beat. It's amazing how many types of brownie recipes there are; and all irresistable in their own way. Sure, there are brownies that aren't made with chocolate, such as
Blondies
, but for now, let's just talk about chocolate brownies!
Some brownies have a light and fluffy texture, much like cake, while others can have a more rich flavor and dense texture with rich chocolate flavor, such as
Frosted Fudgy Chocolate Chip Brownies
.
There are also brownies that can lean on the healthy side, such as
Applesauce Brownies
, and of course, some brownies are loaded with a variety of goodies, such as nuts and chocolate chips. Whatever type of brownies you enjoy, there's one thing we can all agree on - they're irresistable!
These Buttermilk Brownies are indeed irresistable! Tthe texture of the cake portion of these brownies is very moist and full of cocoa flavor, while the frosting tops them off with rich, moist and chocolatey flavor. Both the cake and the frosting are made with buttermilk, and the recipes for both are so easy! It's a good thing this Buttermilk Brownie recipe makes a big batch of brownies, because as fast as they dissappear, you're going to need a lot! While some brownies are made with unsweetened chocolate baking squares, these brownies are made using cocoa powder, offering them a slightly different type of chocolatey flavor. Once these brownies are baked and cooled, simply prepare the frosting in a saucepan and pour over the brownies. Simply allow the frosting to cool and set, then cut into desired square sizes. These Buttermilk Brownies may be stored at room temperature, but should be covered with plastic wrap to keep them moist and fresh.
Ingredients
Buttermilk Brownies

1/2 cup (1 stick) butter
1/2 cup vegetable oil
1/4 cup cocoa powder
1 cup water
2 cups sifted all-purpose flour
1 teaspoon baking soda
2 cups sugar
1/2 teaspoon salt
2 eggs
1 teaspoon vanilla
1/2 cup buttermilk



Buttermilk Frosting

1/2 cup butter
1/3 cup buttermilk
1 teaspoon vanilla
1/4 cup cocoa powder
1 lb (about 3 3/4 cups) powdered sugar
Directions
Buttermilk Brownies
Preheat oven to 400°F. Butter and lightly flour a 12 x 18-inch
sheet cake pan
or
casserole dish
. Set aside.
Sift flour and soda into a medium
mixing bowl
, then add sugar and salt and whisk to combine. Set aside.
In a small saucepan, combine butter, oil, cocoa and water and heat over medium heat, stirring or whisking constantly until butter has melted and all ingredients are combined and smooth. Immediately remove from heat and pour over flour mixture in mixing bowl. Stir with a fork or large whisk until thoroughly combined and well-blended. Add eggs, vanilla and buttermilk, and stir or whisk again until thoroughly combined, scraping sides of bowl to incorporate all ingredients.
Pour brownie mixture into prepared sheet cake pan and bake for 15 to 20 minutes or until a toothpick inserted into center comes out clean. Place pan of baked brownies on a cooling rack and allow to cool to room temperature. Once brownies have cooled, prepare Buttermilk Frosting (recipe follows).
Buttermilk Frosting
To a small saucepan, add butter, cocoa and buttermilk. Bring to a boil over medium heat, stirring constantly. Immediately remove from heat, then stir in powdered sugar and vanilla. Continue stirring until smooth and creamy.
While frosting is still hot, evenly pour over cooled brownies, working as quickly as possible (frosting will set fairly quickly). Spread frosting to the edges and make smooth and even all over (again, working as quickly as possible) with a knife or rubber spatula. Allow frosting to set, then cut into desired square sizes and serve.
Other recipes you might like: