Blondies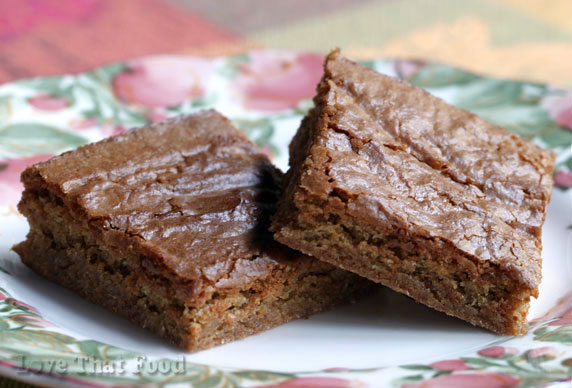 Yield:
9 2 1/2-inch or 16 2-inch square brownies
Tips:
See recipe description for various delicious serving ideas. You may use whole wheat or all-purpose flour. Nuts are optional.
Suggestion:
Also delicious topped with ice cream, butterscotch topping, chopped nuts and whipped cream. (See recipe description for more ideas.) 
Blondies are commonly thought of as brownies without the chocolate. That isn't the whole story, however! These chewy dessert bars are also appropriately sometimes called Butterscotch Brownies due to the use of brown sugar rather than white sugar traditionally used in chocolate brownies. (Butterscotch recipes often use brown sugar to achieve a rich and chewy texture and flavor.) You can give this blondie brownie recipe
even more chewiness and substance by using whole wheat flour instead of all-purpose flour.
The above photo shows Blondies made in simple form with no added ingredients (such as nuts). Though with a little creativity, these blonde brownies can be presented in endless delicious ways! For instance, you can add chopped nuts (any type) or white chocolate or butterscotch morsels to the batter for added flavor and texture. Or, you can serve them topped with a scoop of vanilla or butterscotch (or caramel) ice cream drizzled with butterscotch topping and topped with chopped nuts and perhaps some whipped cream. You can even cut these brownies in half horizontally (to make 2 thinner brownies), then tuck some ice cream in between the 2 layers to create a brownie ice cream sandwich! This Blondies recipe is ridiculously easy to make. All ingredients are mixed together in a saucepan, then poured directly into your baking pan to bake for only 20-25 minutes. No electric mixers or mixing bowls needed - that, of course, means less clean-up!
Ingredients
1/4 cup butter
1 cup packed brown sugar
1 egg
1 teaspoon vanilla
3/4 cup whole wheat or all-purpose flour
1 teaspoon baking powder
1/2 teaspoon salt
1/2 cup chopped nuts or white chocolate or butterscotch morsels (optional)
Directions
Preheat oven to 350° F.

Melt butter in a medium saucepan over low heat. Remove from heat and stir in brown sugar, egg and vanilla. In a small mixing bowl, whisk together flour, baking powder and salt. Add flour mixture (and nuts if you are using) to butter and sugar mixture and stir until thoroughly blended. Pour into a greased 8x8x2-inch-square baking pan.

Bake for 20-25 minutes or until top turns light golden brown and a toothpick inserted into center comes out clean. (Tip: Blondies will likely bake in about 20 minutes in convection ovens.) Allow Blondies to cool, then cut into 9 2 1/2-inch squares or 16 2-inch squares.
Other recipes you might like: